The First Earthrise Image Makes a Trip Back To The Moon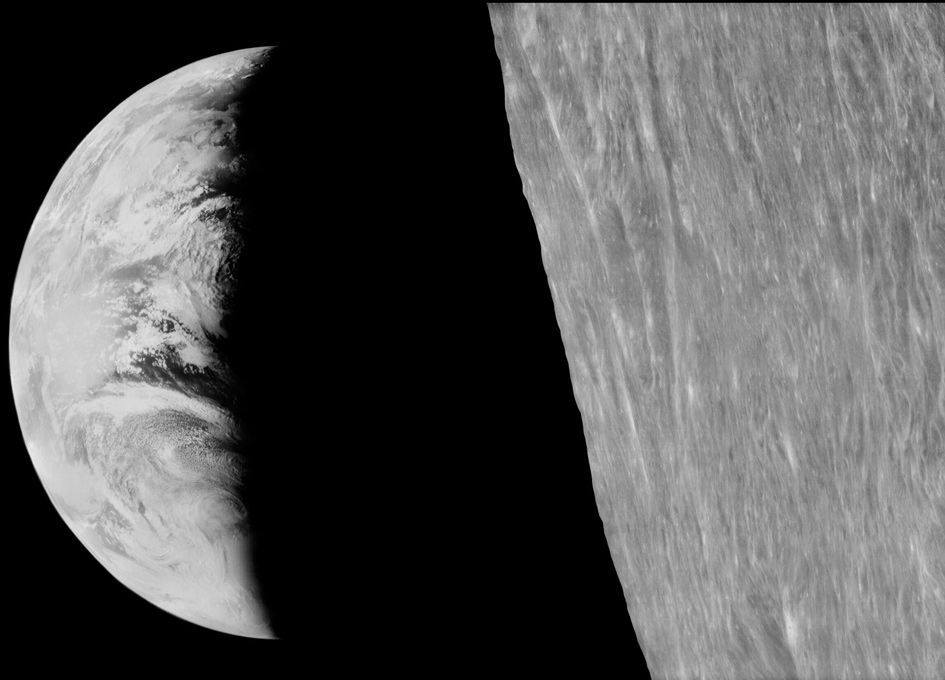 On 19 November 2013, the first image ever taken of the Earth rising over the Moon's surface in 1966 was sent back to the Moon.
This historic image, known as "Earthrise", was taken on 23 August 1966 by NASA's Lunar Orbiter 1.  A full resolution electronic data file over 700 Mb in size containing this image was sent to the LADEE spacecraft currently in lunar orbit and then received back on Earth. 
The NASA Lunar Laser Communication Demonstration (LLCD) system being tested during the LADEE mission allowed the image to be sent to and from the Moon in a fraction of the time required to originally send it back to Earth in 1966.
The Earthrise image that was sent to LADEE was a restored and enhanced version created by the Lunar Orbiter Image Recovery Project (LOIRP) located at the Ames Research Park at Moffett Field, California.  This enhanced image was originally re-released to the public in November 2008.
When it was first released to the public in 1966, this image instantly became iconic and appeared on the covers of magazines and the front pages of newspapers around the world.  For the first time humanity saw their home planet from the perspective of another world.  
NASA flew five Lunar Orbiter missions between 1966 and 1967 to do photo reconnaissance of possible landing sites for the upcoming Apollo Moon missions as well as to conduct scientific research on the nature of the lunar surface.
The LOIRP retrieved this image from the original magnetic tape recorded in 1966 using restored 60s era FR-900 tape drives coupled with modern digital image capture and processing techniques.  This process brought out detail that would have been impossible to see in the 1960s.  Over a thousand images have been retrieved this far. The LOIRP expects to complete these process of retrieving all images by the end of 2014.
The LOIRP's goal is to recapture the images from all five Lunar Orbiters in the same stunning detail as "Earthrise" and to provide the high resolution images for scientists and the public.  All of the imagery and accompanying data will be submitted to the NASA Planetary Data System (PDS) as is the case with all modern NASA missions. The PDS did not exist at the time that the Lunar Orbiter missions were flown.
Support for this project has been provided by NASA, the Solar System Exploration Research Virtual Institute, SpaceRef Interactive Inc., SkyCorp Inc., and hundreds of donors via a RocketHub crowd funding campaign earlier this year.
More information on the Lunar Orbiter Image Recovery Project can be found at http://www.moonviews.com
Comparison of the orignial and restored version of the Earthrise image (larger view)
Related links
– First Earthrise Photo Taken 47 Years Ago Today
– What Lunar Orbiter 1 Was Seeing on 23 August 1966
– Dumpster Diving for Science
– House of Representatives Honors Lunar Orbiter Image Recovery Project
– Nimbus II and Lunar Orbiter 1 Imagery: A New Look at Earth in 1966