Scott Parazynski Everest Photo Update 4 June 2008
Image below: Everest, Lhotse and Nupste behind prayer flags, as seen from Kala Pattar (18,500′)

Image below: Everest, Lhotse and Nupste behind prayer flags, as seen from Kala Pattar (18,500′)


Image below: Me and crew above CI
Image below: Hydrating in the CII dining tent
Image below: Kami from a vantage point well above CII
Image below: Rappelling down the Icefall following a rotation
Image below: Laundry day at EBC (Scott's and Adam's tents)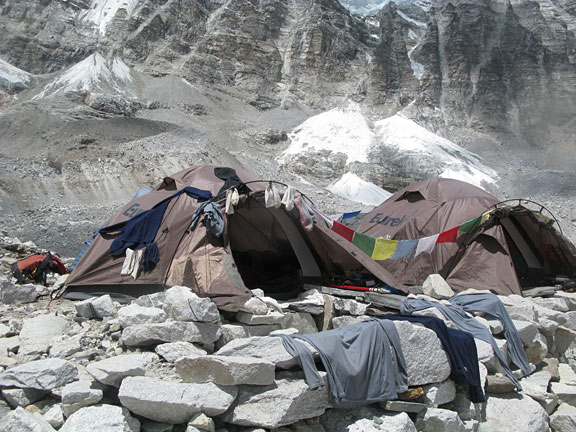 Image below: Kaji, our EBC cook, improvising (with an ice axe) as he butchered yak meat for dinner
Image below: Sunset on the Lhotse face above CII
Image below: The view towards the summit from CIII with the Yellow Band, Geneva Spur, Balcony and South Summit in view
Image below: Scott meets Apa Sherpa in the Western Cwm; Apa has now summited Everest 18 times!
Image below: a self-portrait just before going to bed at CIII on O's
Image below: Bob Lowry stretching Scott out on the way down from CII to EBC; I wouldn't have made it down from CIII the day before without periodic stretching and icing my back every 20-30 minutes.
Image below: My E-ticket ride home: a French-built Cheetah helicopter, piloted by the Nepalese Air Force. An hour and a half flight from the vicinity of EBC all the way to Katmandu, vice a 3-day, 36 mile trek!