NASA Memo: Suspend All Education and Public Outreach (Update)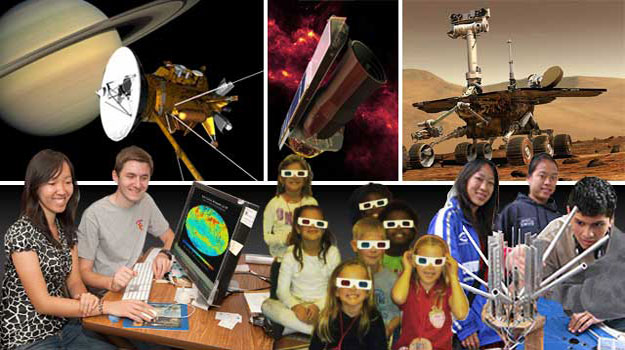 NASA circulated two internal memos on the subject of Education and Public Outreach on Friday. These memos have begun to circulate outside of the agency as well.
Note: The original PDF document was created on 22 March 2013 by NASA Public Affairs and represents guidance from NASA Chief Financial Officer and the NASA Chief of Staff.
"Subject: Guidance for Education and Public Outreach Activities Under Sequestration: As you know, we have taken the first steps in addressing the mandatory spending cuts called for in the Budget Control Act of 2011. The law mandates a series of indiscriminate and significant across-the-board spending reductions totaling $1.2 trillion over 10 years."
"As a result, we are forced to implement a number of new cost-saving measures, policies, and reviews in order to minimize impacts to the mission-critical activities of the Agency. We have already provided new guidance regarding conferences, travel, and training that reflect the new fiscal reality in which we find ourselves. Some have asked for more specific guidance at it relates to public outreach and engagement activities. That guidance is provided below."
NASA then issued a follow-up memo: Memo: NASA AA for Communications David Weaver to Communications Coordinating Council: EPO Activities Under Sequestration
"SUBJECT: Instructions for Waiver from Guidance and Additional information for Education and Public Outreach Activities Under Sequestration
I am providing additional information and instructions regarding the review of public outreach activities under sequestration as outlined in the memorandum from the NASA Chief Financial Officer and Chief of Staff dated March 22, 2013.
First, I am exempting the following activities from immediate suspension:
* Mission announcement media events and products
* Breaking news activities
* Responses to media inquiries"
—
What's clear here is that NASA's handling of the issue has been disorganized at best. One memo makes a broad statement "Effective immediately, all education and public outreach activities should be suspended, pending further review." and the follow-up statement says "First, I am exempting the following activities from immediate suspension". NASA knew that these memos would get out given their distribution, but they clearly did not plan for these memos to get out as fast as they did.
Considering that an important topic i.e. education and public outreach is being affected, they should have known that the contents of these memos would spark a lot of concern and confusion. There will certainly be follow-up from NASA next week as they seek to clarify what they really meant to say in the first place – and to start cleaning up this self-inflicted black eye.