NASA Future In-Space Operations: International Human Lunar Surface Scenario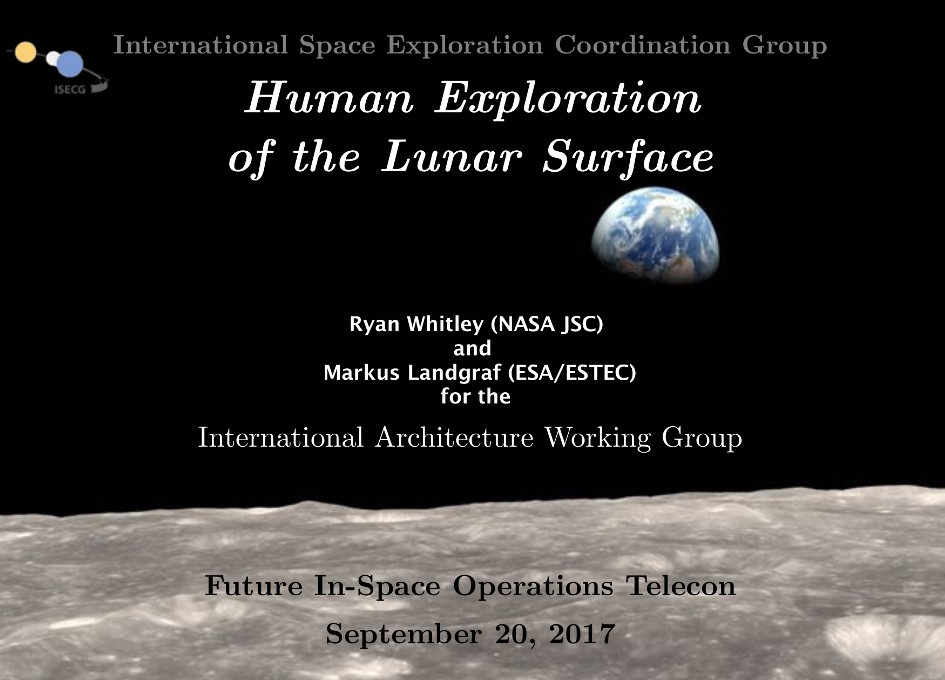 Now available is the September 20, 2017 NASA Future In-Space Operations (FISO) telecon material. The speakers were Ryan Whitley (NASA HQ) and Markus Landgraf (ESA ESTEC) who presented "International Human Lunar Surface Scenario."
Ryan Whitley is the Deputy Systems Integration Manager in the Exploration Mission Planning Office at NASA Johnson Space Center in Houston, TX. His primary responsibility is to support the lead of both the End-to-end Mission Performance Team [EMPT] and the International Architecture Working Group (IAWG), a sub team of the International Space Exploration Coordination Group (ISECG).
The EMPT plays a critical role in defining the mission plans for Exploration Missions (EM) 1 and 2 and beyond while the ISECG formulates consensus architectural plans in the form the of the non-binding Global Exploration Roadmap (GER) that is updated every few years. Starting in 2001, Ryan began his career in a flight mechanics group focused on trajectory design. He is a technical expert in multiple phases of flight, including ascent, entry and in-space for multiple destinations including the Moon, Asteroids and Mars.
Significant contributions include the development of a unique algorithm that auto generates a 3-burn maneuver sequence to return a spacecraft to a fixed landing site on Earth from an orbit around the Moon. Currently, Ryan helps NASA construct feasible scenarios for the elementsneeded to send humans deeper into space, such as the evaluation of proposed staging locations for deep space international operations. To aid in the analytics, he has developed a set of tools to parametrically design a wide variety of spacecraft elements. Ryan received his B.S. in Aerospace Engineering from Purdue University and his M.S. in Aerospace Engineering from the University of Texas at Austin. At the Johnson Space Center he completed the Space Systems Engineering Development Program that concluded with a graduate certificate from the Steven's Institute of Technology.
Markus Landgraf is an architecture analyst in the Strategic Planning Office of the ESA Directorate for Human Spaceflight and Robotic Exploration Programmes. His background is in planetology and astro dynamics. After obtaining his PhD with a thesis on the properties of interstellar dust particles in the solar system he has worked as NRC fellow at NASA/JSC analysing data from the Pioneer 10 and 11 missions. Markus was hired into the ESA Operations Centre where he spent 15 years with growing accountabilities culminating in being responsible for the mission design of the LISA Pathfinder and Gaia missions. After the successful Gaia launch, Markus moved on to join the strategic planning office in ESA/ESTEC.
Listen to podcast of "NASA Satellite Servicing Evolution" telecon:
– Download the MP3 File.
– Download the presentation (PDF).