Hurricane Bill's Clouds As Viewed From Orbit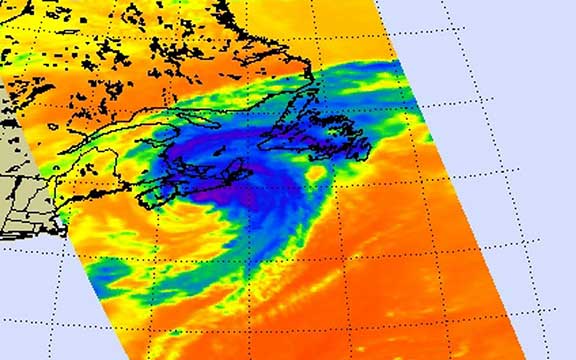 NASA's AIRS instrument captured the large extent of Bill's clouds on Sunday, August 23 at 12:59 p.m. EDT as he was raining and gusting over Nova Scotia and Newfoundland, Canada. Credit: NASA JPL, Ed Olsen NASA GOES Project Satellite Movie: Bill Heads North to Canada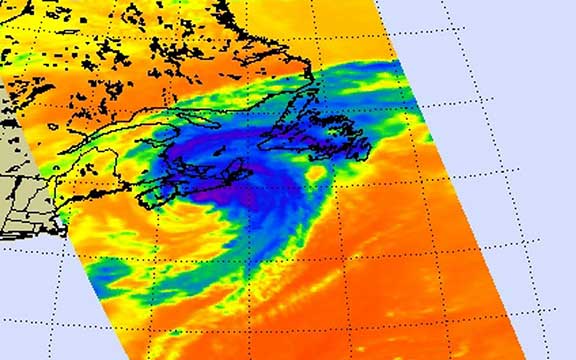 NASA's AIRS instrument captured the large extent of Bill's clouds on Sunday, August 23 at 12:59 p.m. EDT as he was raining and gusting over Nova Scotia and Newfoundland, Canada. Credit: NASA JPL, Ed Olsen NASA GOES Project Satellite Movie: Bill Heads North to Canada
Bill lost his tropical characteristics today, August 24, as he's moved past Newfoundland and is tracking east in the North Atlantic Ocean. NASA's GOES Project at the NASA Goddard Space Flight Center created a satellite movie of Bill's track up the east coast and into the Canadian Maritimes from August 21 through August 23.
The Geostationary Operational Environmental Satellite, GOES-12, operated by the National Oceanic and Atmospheric Administration captures images of U.S. East Coast weather continuously. Those images were compiled into a movie from the NASA GOES Project and showed Bill's track from just west of Bermuda northward into the Canadian Maritimes from August 21-23.
On August 24, by 5 a.m. EDT today, Extra-tropical Storm Bill was still packing sustained winds near 70 mph, just under hurricane status. He was located 190 miles northeast of Cape Race, Newfoundland, Canada, near 48.6 north and 50.2 west. All watches and warnings for Newfoundland have been discontinued. Bill is now speeding along at 43 mph toward the east-northeast. Estimated minimum central pressure is 980 millibars.
As is typical when storms become extra-tropical, they expand. That's what Bill has done. Bill's tropical storm force winds now extend to 315 miles from the center making him a huge storm. Traffic in the north Atlantic shipping lanes should be aware that Bill is producing a huge area of storm and gale-force winds today and the next two days.
NASA's Aqua Satellite also got a stunning look at Hurricane Bill using infrared imagery. The Infrared imagery acts like a thermometer with tropical cyclones and can measure their cloud top temperatures. The colder the clouds, the higher and more powerful the thunderstorms. AIRS instrument captured the large extent of Bill's clouds on Sunday, August 23 at 12:59 p.m. EDT as he was raining and gusting over Nova Scotia and Newfoundland, Canada.
Two deaths in the U.S. were attributed to Bill, and both to the rough surf the storm generated. In Volusia County, Florida at New Smyrna Beach a 54-year-old man died trying to body surf in Bill's dangerous waves. At Acadia National Park, Maine, a 7 year old girl was swept out to sea with a dozen others when tremendous waves battered the coast. Maine Public Safety Department confirmed that the girl was the only one of the twelve that did not survive.
Bill will continue to create dangerous conditions in the North Atlantic for the next couple of days as he heads toward Great Britain.
Text credit: Rob Gutro/NASA's Goddard Space Flight Center