X-38 Put in Storage at Johnson Space Center
On Friday, 11 January 2003, one of four X-38 demonstrators was moved from the location at NASA JSC where it had been undergoing testing, to another location where it will be put into long-term storage. Notice the skull and crossbones flag flying above the Hummer. The X-38 crew chief is walking along the driver's side of the Hummer (more images below).
This is the V-201 vehicle which, had it been completed, would have been carried into space by a Space Shuttle Orbiter. It would have then made a fully autonomous re-entry and landing.
NASA decided to halt the X-38 program last year once some remaining test programs were conducted. This cancellation was part of a larger plan which emerged late in 2002 wherein NASA would proceed with an Orbital Space Plane capable of both crew transport and crew return missions from the International Space Station (ISS). The X-38 was developed to provide only a crew return capability from the ISS.
Much to the chagrin of some NASA managers, the pirate flag has long been associated with the X-38 project. Indeed, as was the case with this move, it was often flown (with pride) to celebrate major project milestones – such as this occassion just after a successful drop test at Dryden Flight Research Center in 1998. The pirate tradition stems from an earlier project led by X-38 project manager John Muratore – the installation of a new mission control center at NASA JSC. At that time Muratore's "pirate team" adopted the pirate flag as their own. They even had a "code of the pirate team" whose basic tenets focused on good teamwork while somewhat ignoring traditional NASA rules and management structures.
Related links
Click on small image for larger view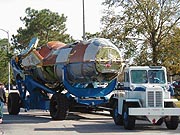 Photos by Jon Berndt