World's First Space Tourist to Visit Mir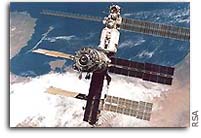 MirCorp, the firm that financed the recent Mir mission, has signed up its first paying tourist. News sources have widely reported that the world's first space tourist will be Dennis Tito, a 59 year old ex-NASA employee turned millionaire who heads Wilshire Associates in Santa Monica, California. A formal announcement is expected today.
The announcement comes on the heels of the completion of the first commercial flight to Mir. The crew of Mir, Cosmonauts Sergei Zalyotin and Alexander Kalery, departed Mir on the evening of 15 June and landed near the town of Arkalyk in Kazakhstan early in the morning of 16 June. Unlike all previous missions to Mir (or any other Space Station for that matter), this mission was wholly commercial. During their 73 days aboard Mir, Zalyotin and Kalery performed a number of repair and maintenance tasks designed to make Mir operational for an extended period of time. This included replacing batteries and sealing an air leak.
According to a ITAR-TASS report last week, cosmonauts Pavel Vinogradov and Salizhan Sharipov are scheduled to visit Mir on 30 November 2000. However, Russia also said that if money is not found to pay for this trip, or for continued Mir operations, that they will deorbit Mir some time in August 2000. Meanwhile, MirCorp continues to express confidence in its ability to raise additional capital for future trips (such as Mr. Tito's) to Mir.
Related links
° MirCorp's privately-funded mission to save Mir ends with cosmonauts touchdown in Kazakhstan, MirCorp

° Soyuz TM-30 Return-to-Earth Timeline, MirCorp

° Preparing Mir for the next crew, MirCorp

° Mir cosmonauts prepare for return to Earth tonight, MirCorp

° MirCorp

° Mir Cosmonauts Make First Commercial Space Walk, SpaceRef
Background Information
° The Prospect of a Commercial Mir: Are we going to have TWO space stations?, SpaceRef

° National Research Council Supports Non-NASA Operator for Space Station Research, SpaceRef

° NASA Releases Space Station Commercial Price List, SpaceRef

° Spacehab and Energiya Announce Commercial Module for ISS, SpaceRef