Rumors of MirCorp's Demise are Apparently Premature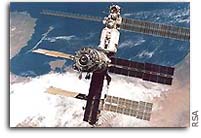 Just as it seemed that MirCorp's fortunes would crash back to Earth with Mir next February, word of a shift in the company's site of operations has emerged. Near simultaneous articles in the Wall Street Journal, MSNBC, and SpaceRef all point to private citizens buying passage aboard Soyuz spacecraft to the International Space Station (ISS).
The first customer travelling to ISS will almost certainly be Dennis Tito, the California Businessman who had originally booked passage to the now-doomed Mir. Tito's contract was with MirCorp, 60% of which is owned by RSC Energia. With Mir scheduled to crash into the Pacific ocean in late February 2001, MirCorp and Energia had only one way to meet their contractual obligations with Tito – and with NBC's "Destination Mir" series which also paid to place someone aboard Mir – after Tito: send them to the ISS.
As is explained in greater detail in yesterday's SpaceRef article"Earth's First Self-financed Astronaut" the intergovernmental agreement that governs the ISS program allows the participating nations wide latitude in how they operate their contribution to the program. Russia has already made commercial or financial deals with regard to its portion of the program – most notably the sale of Cosmonaut time to the U.S.
Last year RSC Energia and Spacehab announced the "Enterprise" module venture. Enterprise would be a wholly commercial module launched in place of the Docking and Stowage Module – another element Russia is to provide as part of its contribution to the ISS. Energia and Spacehab touted the module as being a place where a variety of commercial activities could take place – with media ventures being the most prominently mention. Shortly after the initial announcement, a new company Space media was formed to pursue these projects.
While Enterprise and MirCorp pursued their efforts separately, yet roughly in parallel for about a year, they were always linked strongly together by virtue of the heavy involvement of RSC Energia in both ventures – and, by virtue of RSA's 38% share of Energia, by the Russian government as well. Indeed, many observers saw a potential synergy between MirCorp's and the Enterprise project's activities almost from the moment both ventures were organized. As has been the case in the recent decades of high tech growth a shakeout has occurred. As is also often the case in recent economic history, one-time rivals now seek to become partners. A preview of this merger of sorts was evident at a recent national Space Society -sponsored breakfast (see: "Companies Present Their Plans for Multimedia Ventures in Space", SpaceRef)
Just as MirCorp's ability to generate sufficient commercial income to operate Mir came into doubt in the Fall of 2000, rumors of efforts by Spacehab and Energia to book passengers in the third seat of Soyuz flights to the ISS emerged. Attempts by Dreamtime Holdings (which has a multimedia deal with NASA itself) to book passage also surfaced. (see "Sending 'Average' People into Space is Suddenly VERY Popular", SpaceRef) There were even stories regarding James Cameron (later denied) expressing an interest in flying to Mir or ISS on a Soyuz.
After several years of feint moves and contradictory statements, the consensus coming out of Russia in the past few weeks is that Mir's days are numbered. Current plans call for a plunge back to Earth between 26 and 28 February 2001 1,000 or so miles southeast of Australia. The news from MirCorp that it has effectively abandoned its efforts to send people to Mir should be seen as the final mail in Mir's coffin.
Now word of an impending formal deal between MirCorp/Energia and the Spacehab/Energia's Enterprise project are at hand. According to an article in today's Wall Street Journal MirCorp will be finance the construction of
a Russian module to be attached to the ISS. MirCorp will also provide two Progress flights and two Soyuz flights. According to the Journal "Essentially, for letting Mir fall into the ocean, MirCorp is getting the ISS module," one person close to the talks said. The module will cost $100 million and could be in space in 24 months, this person said."
This will require additional investment on the part of MirCorp's investors since Energia is not exactly flush with cash right now. According to the Wall Street Journal "Mr. Anderson and Mr. Kathuria have agreed to pump $20 million of their own money into MirCorp, on top of the $32 million they have invested so far. MirCorp is seeking other financial investors and is considering an initial
public offering."
These two flights to ISS would be what is required to meet the Tito and NBC contracts. Although not formally announced, rumors of yet another (additional customer) are also circulating.
NASA is not at all happy about this – even though it has been a given that Russia had every right to commercialize Soyuz capacity – and that given its previous track record, that it would certainly do so.
According to a recent AP story "NASA Administrator Daniel Goldin finds the whole matter distasteful. It's wrong, he contends, to peddle spaceship seats to rich guys looking for fun. The NASA chief worries that Tito's deal could spur ticket demand for the international space station. And yet, he says, spare seats on Russian Soyuz rockets should go to European or Japanese astronauts who have been training for years, not to wealthy "spectators."
As is the case with all Soyuz occupants, Tito will hardly be a "spectator". Russia simply would not allow this. Moreover, given that anyone flying in the third seat will have to pay for that seat, it would be of questionable value for a governmental space agency to pay the $20 million given that their passenger would have only 6 days aboard the ISS.
Since the Missions to change out Soyuz spacecraft on the ISS are part of Russia's overall ISS participation, formal word of Tito's presence on the crew manifest of the 30 April 2001 Soyuz flight would be required. Such a letter has been sent by RSA Chief Yuri Koptev to NASA Administrator Dan Goldin. All that now remains is for NASA to acknowledge its receipt.
Early reference was made to shakeouts and how former rivals can become partners. It is also common for new firms to arise during a shakeout phase in a given market to challenge existing companies that have failed to fully seize upon a market opportunity. Just as MirCorp and Enterprise project are looking to work together Germany's Brainpool TV announced its own space venture.
Brainpool announced today that it will be paying Astrium GmbH, the aerospace group of EADS $7.5 million towards the cost of launching a number of individuals into space between 2002 and 2008. These individuals will be chosen during a television series contest and will fly to the ISS aboard Russian Soyuz spacecraft. It is interesting to note that Astrium GmbH is an investor in Spacehab"
It would seem that space commercialization is far from dead. Nor have all of the potential players emerged. Stay tuned.
Related Links
° 12 December 2000: MirCorp Announces Results of Board Meeting: New Programs Supported, MirCorp

° 12 December 2000: Space tv lets candidates fly to the universe – Space tv läßt Kandidaten ins Weltall fliegen, Brainpool TV (English summary, original in German)

° 12 December 2000: Mir's backers plan to launch new strategy, MSNBC
° 12 December 2000: Companies Hope to Keep Space Tourism From Falling to Earth, Wall Street Journal (only available to subscribers or those who have signed up for a free trial subscription)
° 11 December 2000: Earth's First Self-financed Astronaut, SpaceRef

° Sending 'Average' People into Space is Suddenly VERY Popular, SpaceRef

° Companies Present Their Plans for Multimedia Ventures in Space, SpaceRef
Background Information
° Brainpool TV

° Space Commander, Space TV website

° Astrium

° MirCorp

° RSC Energia

° 3 October 2000: Official Press Release About the decision of the Chief Designers Council made on October 3, 2000, on the MIR space station, RSC Energia

° 24 October 2000: F.I.N.D.S. to Fly Futuristic Propulsion Experiment on Mir Space Station In 2001, press release

° 12 September 2000: NBC Launches Space Odyssey in 2001 With New Reality Drama That Will Select One American to Travel to Mir Space Station, MirCorp
° 21 May 2000: MirCorp Announces Planned On-Time Conclusion For World's First Manned Commercial Space Mission, MirCorp

° 12 May 2000:First Privately-funded Spacewalk To be Performed from the Mir Station, MirCorp

° 19 April 2000: Official RSC Energia Press Release About cooperation of S.P. Korolev RSC Energia and SpaceHab, Inc. in development of information programs
° Spacehab

° Space Media

° S*T*A*R*S

° 8 August 2000: RSC Energia and SPACEHAB Announce Agreement with The Russian Aviation and Space Agency for Enterprise Deployment, Spacehab

° 3 August 2000: Space Media Inc. and RSC Energia Join Forces Forming New Multimedia Partnership, Spacehab

° 10 December 1999: Enterprise Module and Space Station Internet Media Company Will Take Space Commerce to New Heights, Spacehab

° 11 April 2000: Spacehab Ventures Into Multimedia Arena With Launch of Space Media Inc. , Spacehab
° Boeing

° Khrunichev

° 27 July 2000: Boeing, Khrunichev Propose Commercial Space Module , Boeing
° Dreamtime

° 2 June 2000: NASA, Dreamtime Partnership Propels Space Information Age to New Heights, NASA