NASA Reverses Pledge to Restore Astrobiology Funding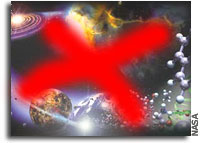 Editor's note: Monday morning, at the opening session of the Astrobiology Science Conference in Washington DC, SpaceRef reported that Andrew Dantzler, Director of the Planetary Science Division at NASA HQ told 700 astrobiologists that the proposed FY 2007 cuts in Astrobiology did not sit well with the research community noting that "it was was not a good shot [at a budget] – we could have done better".
He then said that based on input he had been receiving that it was "clear that we should money back [into Astrobiology]" and that "we have decided to put money back – and we will be doing that as soon as we can." Carl Pilcher repeated this claim at the conference later that day.
Reliable sources now report that at a Science Mission Directorate monthly meeting at NASA HQ on Thursday it was noted that no additional funds will be given to Astrobiology and that someone is going to have to go tell the astrobiologists that the claim made by Dantzler and Pilcher is not true.