NASA Planning to Move Next Shuttle Mission to 2005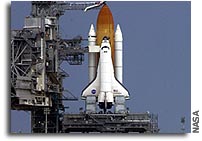 Last week NASA Administrator Sean O'Keefe told a House Science Committee hearing that the chance of launching STS-114 (Return to Flight) in September 2004 was doubtful.
According to NASA sources planned launch dates will almost certainly slip to March 2005 for STS-114 and May 2005 for STS-121.
Meanwhile, STS-300 was baselined last week for a November 15, 2004 launch date – the same as the current planned STS-121 launch date. STS-300 is a pre-staged rescue mission to be in place to recover the STS-114 crew from the ISS in the event of non-repairable damage to the shuttle orbiter Atlantis used to fly STS-114.
STS-300 will, in essence, be the STS-121 configuration without any payloads on board.
As is the case with all Shuttle missions, an MIP (Mission Integration Plan) and an FRD (Flight Requirements Document) are required to baseline a Shuttle flight.
In order to meet the existing tight schedule driving to a September 2004 launch, these documents were rushed through with little to no time to review the documents, according to NASA sources.
One of the common themes within the Columbia Accident Investigation Board's findings and recommendations was schedule pressure and the effect this had on driving the process of preparing for flight – and the possibility that important issues did not get a full and fair hearing.
While senior NASA management has used what Sean O'Keefe refers to as "repeated rhythmic insult" to hammer certain things into people's heads, some still do not seem to have gotten the message.
One example can be seen with the review of documentation for STS-300. According to a source at NASA:
"This lack of review time was commented on by a NASA attendee on the Monday preceding the Thursday PRCB at the Flight Operations Integration Control Board (FOICB), a new board created after CAIB that split the old MICB. It was suggested that the baseline should be deferred a week to allow sufficient review time. The presenter did not concur, stating that he didn't have time to wait – he had a November launch date to protect. There was a comment to the effect, 'you realize you're at risk.' While, to their credit, Bill Parsons, Wayne Hale, et al keep preaching 'we are not schedule driven' it obviously hasn't sunk in."
Related links
27 January 2004: "Adjusting Our Thinking" – Letter from Wayne Hale to the Space Shuttle Team
"Last year we dropped the torch through our complacency, our arrogance, self-assurance, shear stupidity, and through continuing attempt to please everyone. Seven of our friends and colleagues paid the ultimate price for our failure."