NASA Photos Unearthed: George H.W. Bush Wore a Bunny Suit Too
| | |
| --- | --- |
| Click on image to enlarge | Click on image to enlarge |
Much was made of presidential candidate John Kerry's visit to NASA Kennedy Space Center last week. Included in his stop was a tour (arranged at the last minute) inside a Space Shuttle Orbiter with Senators John Glenn, Bill Nelson, and Bob Graham.
In order to climb into such a spacecraft people are required to wear so-called "bunny suits" which prevent items such as hair, skin flakes, etc. from contaminating the inside of the spacecraft.
Kerry and his entourage were not the first VIP visitors to visit a Space Shuttle – and be required to wear the bunny suits. In 1981Vice President George H.W. Bush visited Kennedy Space Center and toured Space Shuttle Columbia with the two astronauts who flew it on its first mission – John Young and Bob Crippen.
Bush also wore a bunny suit.
Of course, there is also this photo taken of President George H.W. Bush's Vice President Dan Quayle during a visit to NASA Johnson Space Center in 1989. The official caption reads: "Vice President Dan Quayle is briefed on a glovebox which demonstrates the flexibility of spacesuit gloves in the simulated vacuum of space during a visit of the shuttle mockup and integration laboratory in March 1989."
Click on image to enlarge
With all this talk of John Kerry and John Glenn wearing "bunny suits", people forget that there was also an occassion when Glenn was present (upper left) when several people visited NASA JSC in 1989 wearing Mao suits.
The official caption reads: "Deng Xiaoping, Vice Premier of the People's Republic of China state council, and his wife are briefed by Johnson Space Center director Dr. Christopher C. Kraft. A complete review of NASA's manned space program was given, using exhibit scale models and flight simulators."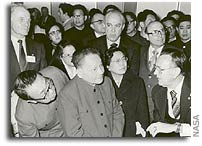 Click on image to enlarge