NASA Decides That A Software Error Doomed The Mars Global Surveyor Spacecraft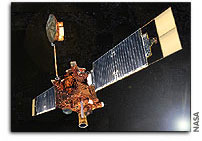 During a meeting of the Mars Exploration Program Analysis Group Meeting in Washington Dc, yesterday, NASA's John McNamee, Mars Exploration Program addressed the issue of the recent failure of the Mars Global Surveyor (MGS) spacecraft.
Apparently incorrect software doomed the spacecraft.
MGS stopped operating shortly after celebrating its tenth anniversary.
According to public comments made by McNamee: "We think that the failure was due to a software load we sent up in June of last year. This software tried to synch up two flight processors. Two addresses were incorrect – two memory addresses were over written. As the geometry evolved, we drove the [solar] arrays against a hard stop and the spacecraft went into safe mode. The radiator for the battery pointed at the sun, the temperature went up, and battery failed. But this should be treated as preliminary."
A live blog of yesterday and today's MEPAG sessions can be found here.