MIR Reported to be Crashing Back to Earth in Early 2001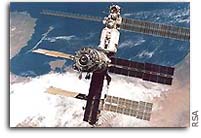 The Russian Interfax news agency is reporting that the
council of top rocket and space engineers has told
the Russian government that "Mir has to be allowed
to return to Earth next February."


Reuters is reporting that Deputy Prime Minister
Ilya Klebanov said "This decision was taken by
chief designers several days ago." Klebanov is
accompanying President Vladimir Putin on a visit
to India.
Spaceflight Now is also reporting that a representative of
the Russian space industry (who did not wish to be
identified) said "Unless RKK Energia has 7-10 million
dollars in its bank account by Tuesday, it has no choice
but to go ahead with de-orbiting of Mir."


AP is also reporting that the same council of engineers
has given Mir the green light for continued operation once
it is boosted up into a higher orbit.


While conflicting stories seem to be proliferating today
on Mir's future, what is clear is that Mir needs an
infusion of cash to stay in orbit. While MirCorp recently
annnounced that NBC would use Mir for a reality based
show dubbed "Destination Mir" no money has been paid to
MirCorp yet.
MirCorp issued a press release on Tuesday evening whereinthey reiterated their confidence in their plans to use Mir while expressing concern about the confusion that seems to be swirling about Mir and its future.
According to the stories that say that Mir is going to be brought down, the space station would be crashed into the Pacific Ocean.
Stay tuned for further developments on this story.

Press Releases