Delta 4 Blast Off with Advanced new GPS Satellite Marks 50th Anniversary of Delta Program
A Delta 4 rocket roared into space on Thursday night (May 27) at 11:00 PM EDT carrying the first in powerful new series of Global Positioning System satellites for the US Air Force. The GPS IIF SV-1 satellite launched from Pad 37 at Cape Canaveral Air Force Station in Florida and marked the 349th launch in the Delta program's 50 year history.
The unmanned rocket thundered loudly off the pad and exactly on time for this third countdown attempt and was a spectacle to behold as she punched through the shifting cloud deck overhead, illuminated by the moon, from my vantage point at the KSC Press Site.
The first launch in the Delta program took place on May 13, 1960 as a Thor Delta shortly after the dawn of the Space Age.
GPS IIF SV-1 is the first in a series of next generation GPS satellites, and following its nearly three hour, 33 minute flight, it joined a worldwide timing and navigation system utilizing 24 satellites, in six different planes, with a minimum of four satellites per plane, positioned in orbit approximately 11,000 miles above the Earth's surface.
"GPS is used by nearly a billion people worldwide for everything from farming and aviation to public safety, disaster relief and recreation, not to mention its military purpose of providing precision navigation and timing to combat forces," said Col. David Madden, the Air Force's GPS Wing commander
"GPS IIF will increase the signal power, precision and capacity of the system, and form the core of the GPS constellation for years to come," Madden elaborated.
The GPS IIF satellites are being built by Boeing in California and then processed for flight at a DOD facility here in Florida. They are about the size of a minivan.
"A constellation of 12 of these next generation GPS IIF satellites are planned for this system", Capt Tom Scarbough (45th Space Force Squadron) told me in a pre launch briefing at Pad 37. "The current system is comprised of 30 GPS satellites. A minimum of 24 satellites are required to operate the GPS system".
"There are 3 major improvements in the GPS IIF satellites compared to those currently orbiting" according to Scarbough. "These next-generation satellites provide improved accuracy through advanced atomic clocks, a more jam-resistant military signal and an extended design life of 12 years compared to the 10 year life of earlier GPS satellites".
"A new civil signal will benefit aviation safety and search-and-rescue efforts," said Craig Cooning, vice president and general manager at Boeing Space and Intelligence Systems. "GPS 2F is the culmination of our deep experience with 39 successful satellites from previous missions, representing more than 30 years of teamwork with the Air Force."
The Delta 4 rocket was built by United Launch Alliance (ULA) and flew in the Medium+ (4,2) configuration with two side mounted solid rocket motors. Since the inaugural flight in November 2002, the Delta 4 enjoys a 100 percent mission success rate for its 13 missions in the last eight years. About 200 people work for ULA in Florida to process and launch the rocket.
Delta launched some of America's most famous and successful missions. NASA's Mars rovers Spirit and Opportunity, along with the Phoenix Mars Lander, were launched by Delta. Additionally, NASA missions such as Mars Odyssey, Messenger, Dawn Asteroid Orbiter, GLAST and THEMIS all began their journeys on a Delta. Numerous national defense missions, the recent GOES series of weather satellites and all current operational GPS satellites on orbit were launched by Delta.
See my Delta 4 pre-launch report and pictures from Pad 37 here:
http://www.spaceref.com/news/viewnews.html?id=1394
My view from the KSC Press Site of Delta 4 poised at Pad 37, the moon and Space Shuttle External Tank Barge in the final minutes before successful Delta blast off on 27 May 2010 from Cape Canaveral Florida. Credit: Ken Kremer
Liftoff of Delta 4 on 27 May 2010 at 11:00 PM EDT. Credit: Alan Walters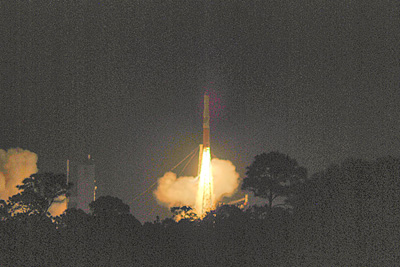 Delta 4 blast off at 11:00 PM EDT on 27 May 2010 with next generation GPS Satellite. Credit: John O'Connor