Delay of NASA's 2007 Mars Mission Under Consideration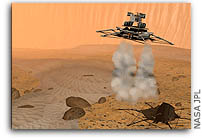 Dramatic changes are being considered for upcoming Mars missions performed at JPL. Under serious consideration: moving the 2007 mission up to 2009. The cause: mounting budget pressures across the agency.
According to NASA HQ Public Affairs "no final decisions have been made". "Multiple options are being examined" with a decision is expected "in the October/November time frame." NASA HQ PAO also says that budgetary concerns are driving these evaluations.
According to JPL PAO "no mission cancellations are being considered." However "the phasing of missions i.e. possibly pushing one back is under consideration". One possibility according to JPL is that "the 2007 mission could fly in 2009" along with the other mission already slated for the 2009 launch opportunity.
Current plans look to the launch of what NASA calls a "Smart Lander and Long-range Rover" during the 2007 launch opportunity. Subsequent missions are still undecided, but the 2009 launch opportunity could see an orbiter with an advanced ground penetrating radar designed to follow up upon the radar to be carried on the upcoming ESA Mars Express mission.
Related Links
29 October A Year of Mars News: It was the worst of times; it was the best of times, SpaceRef

"On 26 October 2000, NASA announced its news plan for the robotic exploration of Mars. According to Weiler, the key element to NASA's revised plan is science.
According to Weiler, this new plan is not mission driven – something many would argue was at the heart of NASA's previous plan to explore Mars. Weiler
described the new plan as being more specific in the near term and more general in the long term. This way, results from one mission can have a chance to affect
subsequent mission design and objectives."