Companies Present Their Plans for Multimedia Ventures in Space
A breakfast title "Space Entrepreneurs: What's Up Next in Space", sponsored by the National Space Society, was held Tuesday morning, 24 October at the International Space Symposium. Representatives from a number of companies who have media deals in space were invited to describe their company's plans and progress.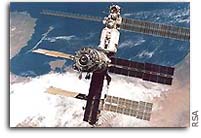 Jeff Lenorovitz from InfoWest spoke representing MirCorp and discussed MirCorp's current plans for the utilization of Mir. The past few weeks have seen a series of back and forth shifts regarding Mir's future. One moment some Russian official is saying that it will be dumped into the Pacific – the next moment MirCorp is announcing that it will soon make an initial public offering (IPO) for MirCorp.
Certainly, both fates cannot be correct. Why raise money to operate a space station that will be at the bottom of the Pacific in a few months? Yet, given the way that Russia and its domestic news media regularly use each other to further specific agendas, both seemingly opposite fates can actually be valid. The truth is simple – where Mir is concerned, money is short.
MirCorp hopes to reverse the trend towards dumping Mir by trying to drum up support – financial and otherwise – for Mir. Other forces try to drum up similar resources in an opposite fashion: by threatening the worst, hoping for government intervention. Others simply want Mir to be gone so that Russia can focus its limited resources towards ISS. Since all of the players – commercial and government alike – on both sides of the Atlantic have overlapping roles in all camps, signals can get confused.
Jeff Lenorovitz tried to walk the tightrope between all these factions – while dutifully presenting the MirCorp message. He made certain to note that MirCorp President and CEO Jeffrey Manber was in Moscow and "walking the halls" of the Russian government trying to forestall Mir's demise.
According to Lenorovitz, MirCorp's success thus far have been significant: funding of two private Progress resupply missions to Mir – and funding (soon to come) for the third flight which recently docked with Mir; the first human crew sent to a space station; and the first commercial EVA.
The most recent Progress mission docked last weekend with the intent of either raising Mir's orbit – thus giving Mir an extra several months of life (and time for MirCorp to bring together financing) or to help bring Mir back to Earth. Right now, MirCorp is working its contacts to convince to Russian government to have some additional faith in MirCorp's ability to attract financing and to boost Mir's orbit.
According to Lenorovitz, MirCorp's efforts had some effect upon causing the a meeting wherein Mir's fate was to have been decided to be postponed. Energia now has 2 – 3 weeks to make a decision on what to do with Mir.
One of MIrCorp's accomplishents in boosting Russian confidence is the deal now in place between MirCorp and NBC, worth a reported $40 million whereby NBC would mount a "Survivor on Mir" TV series, with the winner getting a trip to Mir. There is also the paying passenger, Dennis Tito, whom MirCorp has signed an agreement (for undisclosed sum) for a visit Mir.
Both of these deals not withstanding, the financial resources still do not seem to be in place wherein Mir can be completely supported by commercial capital. As such, it would seem that MirCorp still has a hard road ahead of it since the Russian government does not have any spare cash to spend on supporting Mir (ISS pressures don't help things). Hence MirCorp's plans for an IPO which seeks to raise $117 million. This would supplement the $40 million already invested (and spent) by Walt Andersen and Dr. Chirinjeev Kathuria.
Whether Russia has the confidence in MirCorp to keep Mir aloft long enough so that the money can appear remains to be seen. Lenorovitz was confident that capital could be raised, yet MirCorp has already missed payments to Russia.
Lenorovitz had some somewhat annoyed words for those in the media – and the aerospace industry – who seek to apply "traditional business thinking" to projects such as Mir. "Mir needs money now" Lenorovitz said. "MirCorp does not have multiple years in which to develop things."
Citing the often apparent inconsistencies in Russia official statements, Lenorovitz quoted Deputy Prime Minister Ilya Klebanov as saying "we will deorbit Mir in February. If alternative funding is found, that would change the situation."
Editor's note: later in the day, FINDS (Foundation for the Non-governmental Development of Space) issued a press release announcing its intent "to fly a 7 kilometer-long electro-dynamic tether aboard the Mir space station in 2001. The experiment, dubbed "FireFly" will demonstrate a totally new way to help keep spacecraft in orbit that is clean, cheap, passive and doesn't disturb experiments or residents aboard a space facility without using expensive chemical rockets."
Shelly Harrison spoke next representing Spacehab and Its new commercial venture, Space Media. Space Media was formed to "create a commercial; enterprise in space with RSC Energia" according to Harrison. The prime focus of its efforts is the "Enterprise" module which is scheduled to be launched to the ISS in 2003. Space Media and Energia have also formed "Entermedia" a company designed to foster commercial activities aboard the Russian segment of the ISS. Right now this is comprised of the Service Module and the FGB (even though the FGB was paid for by the US).
Harrison spoke of a number of media activities that he saw coming online in the next few years – many of which will be hosted by Apollo 13 commander Jim Lovell. Among the more prominent ventures is the S*T*A*R*S program which already involves 500,000 students in 9 countries.
Space Media will also be involved with broadband portal that will be launched in the next year and a large image archive that includes not only a half million images from the U.S. space program but also imagery (many of it not seen before) from Russia's space program.
The Enterprise module is slated to dock at the port and the location currently assigned to the Docking and Stowage Module which the Russian government is supposed to provide under the ISS MOU.
Boeing and Krunichev recently announced that they were looking to market a commercial version of the FGB (FGB 2) for use on the ISS. FGB 2 is the spare built by Krunichev under contract to NASA for contingency use should the first FGB fail. Since it is now not needed for backup purposes, Boeing and Krunichev are looking for other uses. This vehicle was designed mostly as a propulsion module. As such its internal configuration is rather cramped and not at all conducive to the sort of activities often associated with a lab module – or Enterprise.
Given the current architecture of the ISS, there is only one place an additional module is going to dock – the location reserved for the Docking and Stowage module. Given that Enterprise also seeks to occupy that position, one has to wonder who will make the decision. When asked this question, Harrison replied that Energia operates the Russian segment under contract to the Russian government and that it had already evaluated the Boeing/Krunichev option and found it lacking. According to Yuri Semenov, President of Energia, the modifications necessary to make FGB useful in a fashion similar to a lab module would cost several hundred million dollars.
Harrison was rather clear that he felt that a decision had been made and that the Spacehab/Energia Enterprise module was going to be in this position on ISS. What was lacking from this discussion was any mention of the role the ISS program itself has – either U.S. or multilateral management – in decision involving the overall architecture and operations of the ISS.
Enterprise, as currently envisioned, would meeting the requirements that the Docking and Stowage Module would have met, according to Harrison. In addition, Enterprise has the TV studio capabilities Space Media needs – including a greenscreen to allow imagery to be inserted electronically from elsewhere (Earth). When asked who would staff this facility Harrison said that Space Media had contracted with a few cosmonauts and that other media professionals such as news- and weathercasters would be brought aboard. Whether this means that these individuals will fly to the ISS is another issue – one Harrison did not address.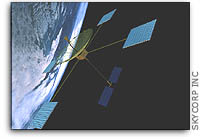 Dennis Wingo from Sky Corp then spoke. SkyCorp recently announced that it had signed a commercial Space Act Agreement with NASA to launch a test satellite from either the ISS or from a Space Shuttle. The satellite would be novel in that it would be shipped to orbit within several Shuttle middeck lockers, assembled by an astronaut, and then tossed out of an airlock. A small cold gas propulsion package would then fire to alter the orbit so as to prevent the satellite from recontacting the ISS at any point. Wingo said he'd prefer an ISS launch since that would give him a higher inclination orbit and thus more ground coverage.
This satellite will be novel in other way too – it will contain the first webserver in space – one that will be based upon a Mac G4 computer. SkyCorp chose the Mac platform for its ease of use and resistance to hacking. This webserver would serve as the core of SkyCorp's initial income stream by selling webserver space. The satellite's webserver would be accessible to persons on Earth using standard wireless devices. Wingo hopes that this proof of concept satellite would be the forerunner of a large low earth orbit constellation designed to provide Internet access.
Wingo's approach runs counter to the standard satellite paradigm wherein satellites have to withstand launch forces which only represent a few minutes in a lifetime measured in years. Once in space, all of that mass and complexity is useless.
SkyCorp's deal was signed with NASA's Johnson Space Center after being rated at the top of the heap in a proposal evaluation earlier this year. Wingo's model is rather untraditional – and while it seeks to reduce the cost of getting things into space it does still run up against the road blocks and costs that all space ventures face.
Wingo said that the true commercial utilization of space – particularly aboard the ISS will not be truly realized until users can have frequent access to the station's capabilities. The Space Shuttle simply does not provide that access. Users also need streamlined access to the station's payload integration process. The current process takes years to work through. Given that the lifetime of a product on the market averages 2 years, this minimizes the ability of ISS to be used as a platform to develop commercially viable products and services.
Wingo closed by describing SkyCorp's plans as being both "Dan Goldin's poster child and guinea pig."
Note: see "SkyCorp Signs Agreement With NASA to Fly the First Webserver in Space – and it will be a Mac G4" for a more detailed description of SkyCorp's plans.
Andrew Cary from Discovery.com then spoke about the various activities that the Discovery Channel family of services would be providing. According to Cary, "2001 will be the year of space for Discovery with a major space event once every quarter." The first of these events will be a so-called "watch with the world" broadcast about the International Space Station which will air in primetime around the world on 10 December 2000. This special will include footage shot in space and a variety of computer generated animations describing how the ISS works and how it will be used for scientific and technological research.
Cary also mentioned Discovery.com's recent relationship with SpaceRef.com and its focus on news and reference information. He also noted that SpaceRef.com's current board of advisors which includes Vinton Cerf, the "father of the Internet"; Homer Hickam, bestselling author of "Rocket Boys" and "Back to the Moon"; STS-40 astronaut Andrew Gaffney M.D. and Astrobiologist Dale Andersen. Cary also made note of Nature magazine's recent citation of SpaceRef as being one of the world's top astronomy and space websites.
Last to speak was Bill Foster, CEO of Dreamtime. Foster gave an overview of Dreamtimes's inception earlier this year and its non-exclusive arrangement with NASA to provide enhanced public access to the public for NASA's immense collection images and media.
Dreamtime will also be providing media capabilities that exceed those currently in use by NASA. The most notable example will be the placement of HDTV cameras on Space Shuttle missions and eventually aboard the ISS. The first HDTV broadcast will be of the Expedition 1 launch later this month from Baikonur. With regard to this launch, Foster said that he was more or less certain that the Dreamtime logo would be on the side of the launch vehicle that would launch the Expedition 1 crew.
Foster made certain that people knew that his company's arrangement with NASA was non-exclusive. Rather, he said, it is "inclusive" and that if "someone is into space, then Dreamtime is interested in what they are doing too". As for specifics regarding business plans, Foster was optimistic and positive – but still rather vague. He claims to have a lot of financial interest in his company noting that Sumitomo Bank is leading a capitalization effort right now. An infusion of cash is expected to result from these activities in the next several months at which time the current staff of 40 or so is expected to double.
All told, the morning's speakers represented a wide range of activities – from programs and projects nearly completed to one's that exist only as marketing plans.
Related Links and Background Information