Bigelow Reveals Space Business Plan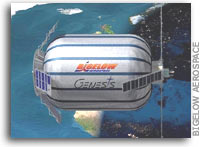 The following story appears in Aviation Week and Space Technology and online at aviationnow.com.
Las Vegas — The Bigelow Aerospace commercial inflatable manned space module venture intends by 2015 to have three large multi-module outposts in Earth orbit to serve different user communities.
The Bigelow business plan will headline the National Space Symposium to be attended by 7,000 people in Colorado Springs, Col. this week. Company CEO Robert T. Bigelow briefed Aviation Week & Space Technology on the plan in advance.
The major new inflatable space module initiatives could turn North Las Vegas into one of the larger space infrastructure development centers in the world. Bigelow facilities there are being readied for a major floorspace expansion. A component manufacturer has already moved in across the street.
Bigelow says his engineers predict that 800 paying crewmembers could fly to Bigelow outposts over the next 10 years.
As many as 12-14 commercial launch vehicles could fly cargo and crew to the initial outpost in its initial year of manned operations — as early as about 2012, he says. Bigelow is already testing in orbit its Genesis I inflatable module, and Genesis II will be launched by late spring under current planning for its Russian SS-18 Dnepr booster.
If Genesis II is launched successfully, Bigelow will have two modules aloft. The company's spectacular Las Vegas control room with 18 large wall mounted screens and several console positions is every bit as impressive as the International Space Station control room at the NASA Johnson Space Center. The space hardware and impressive control center means that Bigelow — means business.
Some commercial crew launch and resupply missions would fly from Cape Canaveral as new commercial launchers servicing Bigelow outposts and the International Space Station.
The flights on vehicles like the SpaceX Falcon 9 could be a major new growth area for the Cape, using new systems that would take advantage of the shuttle workforce as shuttle missions halt going into 2011.
But Russian launches or flights from Woomera, Australia, and other new commercial launch facilities are part of the plan that Bigelow will brief at Colorado Springs this week. The NASA Commercial Orbital Transportation Services (COTS) competitors SpaceX and Rocketplane Kistler will be heavily involved, as could other launcher/spacecraft concepts, including Russian Soyuz and, eventually, Chinese Shenzhou missions. Even outfits like Blue Origins could fly to Bigelow modules.
The paying crews for Bigelow modules would not be "tourists" going on 20 min. suborbital jaunts. But a wide range of Bigelow module users, going all the way to orbit –and back — but staying a while to accomplish something in between.
"It's not about space hotels," Bigelow says emphatically. He told Aviation Week & Space Technology that he is increasingly frustrated at media reporting that tars his space facilities as "space hotels", because on Earth he is the president of the Budget Suites hotel chain.
"We have been identified as the space hotel folks and that's not the case — that really never has been the case."
"We've always imagined building commercial space complexes that can accommodate a variety of functions or variety of uses. So there is a major category and there are some significant approaches that we are going to be announcing that have not been discussed before that I've seen in any of the literature or any discussions with other companies," he said.
"If I were a banker — and I have been — and I were listening to this kind of presentation and watching the numbers and the figures I think the approach we are going to take makes substantial sense."
At the same time, Bigelow is developing its Earth orbit infrastructure, the company intends to develop a capability to assemble in space small outposts that could be delivered, largely assembled, to the surface of the Moon.
The company is about to begin tests in Las Vegas on a proprietary system how to cover and insulate the modules with lunar regolith using a Bigelow design with minimal moving parts less subject to breakdown, he said.
Earlier futuristic concepts like the transmission to Earth of electricity generated more cheaply and cleanly on the on the Moon are being reexamined, potential Bigelow lunar surface investors tell Aviation Week.
In what will be a highlight of the 23rd National Space Symposium (NSS) this week Bigelow will unveil the business plan he is putting in place to make this new commercial manned space infrastructure a reality.
Space transportation to his modules is a critical business element.
" We are working very intently on the transportation part even though we are the destination," Bigelow says. By 2016 the plan is for three flights per month going to Bigelow outposts.
"Our company would contract with a transportation provider and we would essentially broker the transportation and the seats to our clients," he said. " So we would be buying "X" number of flights per quarter or per year. In our first full year of operation, we are probably looking at 12-14 flights, which is a very aggressive pace," he says.
"The price is going to include all the costs of launch fees and range fees and cost of recovery.
" It will include also the cost of training the client. We will have a what we think will be a high fidelity regimen and process for astronauts to familiarize themselves ??? and that's the term I'm using for clients that are flying to space, — astronauts." So the fee will include those training costs. It will also include insurance."
Bigelow said the company will be buying liability insurance that is separate from whatever the launch provider may or may not have. And Bigelow will provide its own insurance to its passenger astronauts.
"We will have a profit and overhead fee on top of all that. Those components comprise the final cost that we will charge a client. As our launch costs drop, we can pass those savings on to our clients," he said.
The launch costs would be a function of traffic, and the frequency and quantity of flights.
That business plan has as specific points:
–Customer bias: We will have a customer payment of services plan that is "much more conservative in the client's favor than what is typical in the space business," Bigelow said.
–Escrow accounts: "We will have a method escrowing monies that will keep those customer monies in a refundable state for a much longer period of time and represent only fractionally that amount of money that will need to be paid to reserve the use of a space facility," Bigelow says.
–Innovative payment plans: One reason commercial space has been so slow to evolve is because it has required so much up front money from customers for such high risk ventures. Bigelow wants to reverse that.
"We will have milestones that it will be incumbent upon Bigelow to successfully pass before money is transitioned from being refundable to non refundable he said. "A big part of the message we will be conveying at the Space Symposium is "Look! We are not going to charge you an arm and a leg for the services that we are providing," he said.
"We think this will make the use of our orbital services very conductive for moderately funded organizations.
–Space "real estate": Bigelow earned his sizeable several hundred million dollar fortune as a general contractor and real estate developer. And he is applying that experience to space. "We will take all of the education and practice that we've had as practitioners of real estate — executing real estate transactions over decades– nd channel those experiences into a structure of having professional escrow practitioners handle customer funds.
"Up to this point we have spent about $90 million, but the good part is that its all been from cash flow, that's from net Bigelow Aerospace income.
"We have not been eating off one of our legs at a time to survive. We haven't been spending capital. In that regard, we are unique among the small wannabe aerospace companies.
The Bigelow hardware buildup plan includes:
–Genesis II module: Although the same 15 x 8 ft. size as Genesis I with four solar arrays on each end, Genesis II will have more mature systems. It will also transmit data to more Bigelow ground sites beyond just the Las Vegas plant.
It is a one-third scale version of the manned commercial space modules Bigelow Aerospace hopes to launch in the future. Unlike the company's previous spacecraft, Genesis II will feature several systems and materials not flown on Genesis I. This includes upgrades to vehicle control and sensors, a multi-tank inflation system and additional layers to the module's outer shielding.
There will also be a total of 22 combined interior and exterior cameras on Genesis II that include articulated and as well as an exterior projection system to allow the display of images on the main body of the vehicle.
And in a test of aerospace billboard advertising like that pioneered by Goodyear Blimps???Genesis II will carry a large exterior sign reading "Blair", Bigelow's granddaughter. Future signs would be funded by paying customers, not grandpa.
Genesis II features items and pictures sent up by paying customers are part of the "Fly Your Stuff" program. The photos and items will be photographed and displayed on the Bigelow Aerospace website. Public participation will also include the first-ever robotic "Space Bingo" game, as well as a Biobox life sciences experiment. Space Bingo was conceived by Bigelow himself as not only as something that will be fun, but also teach kids about robotics. The Biobox is designed to be both an experiment keyed monitoring the modules' temperature and atmosphere, as well as an educational element for schoolchildren.
–Galaxy module: Planned for launch in late 2008 Galaxy will be twice as large as Genesis and 50% of the scale required for an operational manned module.
The Galaxy module will provide critical tests of different life support system components and avionics. It will also evaluate a different internal longeron system more like the center-mounted core planned for latter manned modules. There will also be more exterior payloads mounted on Galaxy and more advanced solar arrays and attitude control capability.
–Sundancer module: Planned for launch by 2010 on a Space X Falcon 9 booster, Ukrainian Zenit, or possibly even an Atlas V, the 10 ton Sundancer module will be launched with the intent that it will eventually be manned with up to three astronauts, Bigelow said.
The Sundancer inflatable will have about 175 cubic meters of volume and measure 28.5 x 20.6 ft.
It will have a life support system proven initially on the Galaxy module and a robust propulsion system so that can be launched into a high long-life orbit for tests, then maneuvered lower to an altitude where it could be reached by manned spacecraft.
Sundancer will be launched with a Soyuz type docking system at one end and a new NASA developed advanced lightweight Low Impact Docking System (cq caps) on the other end, Bigelow said.
–BA 330 modules: Tests with Sundancer are planned to lead to the launch of the BA 330, a 330 cubic meter inflatable that could house up to six people.
The first operational manned Bigelow outpost would involve the launch of the first Sundancer in 2010, the launch and docking to that module of a propulsion bus and central node module, followed in 2012 and 2013 with the launch of BA 330 large habitation modules.
All of the modules would be inflatables, but the node, like on the ISS, would be a solid docking interface.
The second similar outpost would be completed by 2014 and a third outpost, again with two BA 330s as the larger elements would be completed by 2015.
The outposts would offer different mission uses. For example Bigelow expects one will be devoted to microgravity users who do not want a lot of human activity to spoil the microgravity environment for the experiment cargos. And they will be launched into different orbital inclinations to support user needs. Higher inclinations overfly more Earth terrain.
Copyright 2007 Aviation Week and Space Technology.