Atlantis: The Grand Finale Photo Special at Launch Pad 39A Part 2
By Ken Kremer: On July 5, the countdown clocks begin ticking down towards the Grand Finale of the Space Shuttle Era. Space Shuttle Atlantis awaits blast off on July 8 at 11:26 a.m. EDT from NASA's seaside launch complex at Pad 39A at the Kennedy Space Center in Florida.
Atlantis is scheduled for a 12 day flight bound for the International Space Station. The STS-135 mission will deliver the Raffaello Multipurpose Logistics Module. Raffaello is loaded with critical supplies, spare parts and science experiments that NASA shuttle managers emphasize are "mandatory" in order to keep the ISS and the science experiments operating with a full complement of six crew members.
Shuttle Commander Chris Ferguson leads the quartet of experienced astronauts which also comprises Pilot Doug Hurley and Mission Specialists Sandy Magnus and Rex Walheim. Recently, NASA granted a group of us very lucky journalist's unprecedented access to Atlantis on top of Pad 39A for the final flight.
After touring the upper gantry levels (see Part 1), we then were allowed to do a 360 degree tour at close proximity around the base of the Mobile Launch Platform upon which Atlantis, the orange colored External Tank and the mighty Solid Rocket Boosters rest until liftoff. Indeed we were so close that we observed pad technicians busily at work swapping out a faulty engine valve in Space Shuttle Main Engine No. 3 that was detected during the recent tanking test with cryogenic propellants.
It was both relentlessly breathtaking and surreal to find oneself at a historic crossroads – looking skywards from directly beneath the wings of the very last shuttle orbiter that will soon be orbiting Earth some two hundred miles overhead. NASA's Space Shuttle's are the most complex and magnificent machine built by humans, constructed with over two and a half million moving parts.
Check out the second half of my Launch Pad 39A photo album:
Magnificent view of Space Shuttle Atlantis from on top of the Mobile Launch Platform at Pad 39A at the Kennedy Space Center, Florida. Credit: Ken Kremer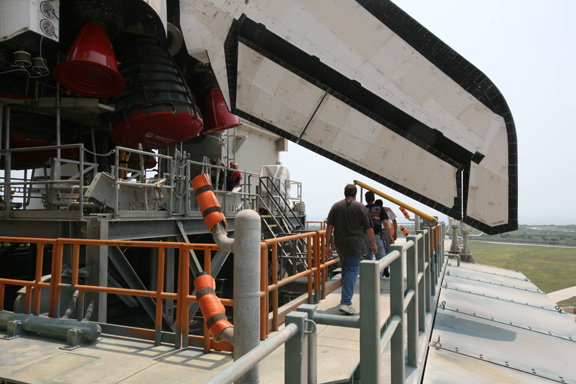 Shuttle technicians walk beneath Atlantis tail and work to swap out a faulty valve on Space Shuttle Main Engine No 3 that would have scrubbed a liftoff if it had not been detected ahead of time. Credit: Ken Kremer
Looking skyward from directly below Atlantis wing. Walkway leads to the White Room were astronauts enter the orbiter and are strapped to their seats in the hours before liftoff. Credit: Ken Kremer
View from below the belly of Atlantis showing attach points to the External Tank. Credit: Ken Kremer
Rear view of shuttle stack and launch gantry. Credit: Ken Kremer
View down from on top of the Mobile Launch Platform. Credit: Ken Kremer
Close up view to base of the External Tank and twin Solid Rocket Boosters with four hold down bolts each. Credit: Ken Kremer
Atlantis back dropped by the launch pad gantry. Credit: Ken Kremer
STS-135 misison is slated for blastoff on July 8. Credit: Ken Kremer
Side view of Space Shuttle Atlantis on top of Mobile Launch Platform at Pad 39A. Credit: Ken Kremer