Allure From Afar: 1st Prize Student Essay at the Next-Generation Suborbital Researchers Conference, 2011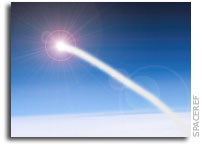 1st Prize Student Essay at the Next-Generation Suborbital Researchers Conference, 2011
We stand at the forefront of what may be a renaissance in suborbital spaceflight. As such, it is paramount that we ask ourselves the most basic and fundamental inquiry regarding this development. Why does it matter, especially when compared to other developments made with space technology? Because the fact remains that even after nearly sixty years, human spaceflight remains an extremely expensive, hazardous, and dangerous undertaking. Only Russia, the United States, and China have been successful in developing and launching their own manned spacecraft. To date, only slightly more than five hundred people have flown in space.
It is projected that within ten years, the number of people flown into space will increase by about six hundred percent, due to an increased number of suborbital spaceflights. This has the potential to create an entire new industry, one that would bring great benefit to aerospace engineering, atmospheric science, and a plethora of other professions. Within the next decade, this could prove to have a huge economic impact. One may even go as far as to say that suborbital spaceflight may become as vital to society as the internet has become.
Most suborbital spacecraft are intended to travel just beyond the Karman line, about half of the altitude reached by Alan Shepherd when he flew aboard the Friendship 7. At this altitude, the spacecraft will be unable to complete a full orbit, At first glance, it seems that suborbital spaceflight pales in comparison to other contemporary spaceflights. So what advantage does suborbital spaceflight have over orbital spaceflight?
One of the biggest advantages is cost.
A price that is often quoted for a ticket on SpaceShipTwo is about $200,000. While this may seem expensive to some, it is very affordable compared to what others have paid to go to space. Dennis Tito paid $20 million to fly to the International Space Station. Since Tito's venture, only seven other people have paid to fly in space.
More than three hundred people have already made deposits to Virgin Galactic in order to secure a seat on SpaceShipTwo. It is evident from this that far more people are able and willing to fly on a suborbital spaceflight than on a Soyuz.
But why would someone pay for this experience in the first place?
Any passengers that may fly on SpaceShipTwo or any other suborbital spacecraft will only experience about five minutes of weightlessness.
And yet many people are willing to pay for the opportunity to experience weightlessness aboard aircraft that perform parabolic arcs. But this creates a microgravity environment that only lasts for about twenty-five seconds. Compared to this, five minutes of weightlessness aboard a suborbital spacecraft seems to be far more preferable.
But venturing to a suborbital altitude will offer an experience that is arguably even more profound. It will provide an opportunity to see Earth for what it is: an oasis of life in an otherwise barren and inhospitable universe. Too few people understand how fragile our planet is, and how vital it is that humans, with the capability to alter the planetary environment in unprecedented ways, care for the planet which gave them life.
Some may contend that seeing the Earth from space is far from profound, as anyone with access to the internet is capable of viewing the images and video of our home planet that have been obtained from manned and unmanned space missions.
But these can never serve as an adequate substitute for seeing and experiencing it for oneself. It would be difficult for someone to break free from the confines of Earth and venture into the heavens above, and then claim not to have been effected by the experience. For how can one justify the bitter hatreds and hostility people subject towards each other and their environment when such bitterness cannot be justified when compared to the vastness of the cosmos itself.
It is because of this that we may very well stand at a watershed moment in human history, a time when a sizable portion of the population could have the opportunity to see Earth for what it truly is, a time when we may reap not only the economic and scientific benefits of increased space travel, but the psychological benefits as well.
– Kevin Schillo, author information
– "- "Against a Diamond Sky" novella by Kevin Schillo