Weekly Recap From the ISS Expedition Lead Scientist Week of Dec. 1, 2014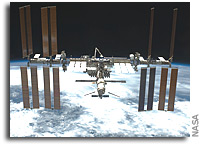 (Highlights: Week of Dec. 1, 2014) – NASA astronaut Terry Virts removed the High Temperature Insert from the Device for the study of Critical Liquids and Crystallization (DECLIC HTI-R) investigation on the International Space Station. DECLIC HTI-R is an experiment that studies water near its critical point — the point beyond which water loses its distinction between liquid and vapor and begins to behave as a dense gas. Salt tends to precipitate out from water at temperatures and pressures beyond this critical point. Understanding this behavior will assist designers in building extended-life, low-maintenance water oxidation reactors resistant to salt deposits and corrosion, providing a more environmentally friendly waste management system and reducing operating costs of power plants on Earth that use water for its working or coolant fluid. The High Temperature Insert will be returned to Earth on the SpaceX-5 resupply mission in January 2015. DECLIC is an investigation developed by the French Space Agency in Toulouse.
The ground team for the Space Communications and Navigations (SCaN) Testbed ran several NASA communications network events this week on the space station. SCaN is a flexible radio system — designed at NASA's Glenn Research Center in Cleveland — that conforms to common, non-proprietary standards so agency flight controllers can change the software and how the equipment is used during flight. It would allow spacecraft crews and ground teams to recover from unpredicted errors or changes in the system. Changing a radio's software after launch would give mission operators on the ground the ability to enhance communication systems for increased data flow and possibly resolve problems with the communications systems. Using the same hardware platform for various missions and only changing the software to meet specific mission needs also would reduce cost and risk. Radio technology designed for use in space could also be used on Earth, such as satellite radio platforms, sparking the development of open standards.
The team running the Flame Extinguishment Experiment-2 (FLEX-2) investigation completed a checkout of the recently installed hardware and calibrated the Binary-Droplet Array test matrix. Afterwards, NASA astronautBarry "Butch" Wilmore replaced the Combustion Integrated Rack (CIR) manifold. FLEX-2 is the second experiment on the space station that uses small droplets of fuel to study the special burning characteristics of fire in space. It studies the rate and manner in which fuel is burned, the conditions necessary for soot to form, and the way in which a mixture of fuels evaporates before burning. The results from these experiments will give scientists a better understanding of how fires behave in space and will provide important information that will be useful in increasing the fuel efficiency of engines using liquid fuels. On Earth, FLEX-2 will help in the understanding of combustion-generated pollution, and address fire hazards associated with liquid combustibles.
Virts completed the first measurement of a new human research investigation studying Factors Contributing the Food Acceptability and Consumption, Mood and Stress on Long-Term Space Missions (Astro Palate). The experience of spaceflight is inherently stressful, and moods and stress have a significant impact on physical health. For this reason, it is important to take every opportunity to reduce the stress associated with space travel.
The Astro Palate study explores the relationship among emotions, mood, stress and eating during spaceflight. It will explore ways to minimize the stressful aspects of eating in space so crewmembers consume more food and are more satisfied with it. This will include comparing moods when astronauts choose their own food to when the menu is selected for them. Additionally, the experiment examines ways to use the task of eating itself as a way to reduce the stress or negative moods that crewmembers may experience in flight by comparing eating meals alone or with others and offering an individually distinct meal for special occasions.
Other human research investigations continued for various crew members including Biochem Profile, Bone/Muscle Check,Cardio Ox, Cognition, Journals, Microbiome, Repository, Salivary Markers, Skin-B.