Views and Estimates – House Science Committee FY 2007 (NASA Excerpt)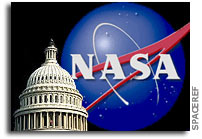 Full document (1.5mb PDF)
The Budget request seeks $16.792 billion for NASA in F07, an increase of 3.2% over the FY06 appropriation, excluding supplemental funding for Katrina-related damages.
As it made clear in the NASA Authorization Act of 2005 (P.L. 109-155), the committee wants to enable NASA to thrive as a multi-mission agency with robust activities in the human exploration of space, earth science, space science, and aeronautics.
NASA has made significant progress in a number of areas since Congress last prepared Views and Estimates. In the past year, NASA has achieved a greater degree of fidelity in its understanding of the costs and priorities of the programs within the agency. The new administrator, Michael Griffin, has overseen a number of changes and agenda–setting activities. NASA has completed the Exploration Systems Architecture Study (ESAS), providing the first baseline for pursuing the Vision for Space Exploration. Furthermore, the agency continues to identify and correct the safety concerns of the Space Shuttle and prepare for an orderly completion of the Space Station and the retirement of the Shuttle in 2010 after over 25 years of service to the nation. NASA has also begun restructuring its aeronautics research program.
The five-year budget projection for the Space Shuttle program is designed to fully fund the Shuttle through its retirement, making up for a shortfall in previous projections. Taking into account program transfers, the FY07 budget increases funding for the Space Shuttle by $2.2 billion through 2010 and for the Space Station by $1.5 billion.
Restoring funding for the Shuttle and Station accounts has come at the cost of slowed growth in NASA's other program areas. The Exploration Systems Mission Directorate, which oversees the Vision for Space Exploration, will receive $2 billion less through 2010, and NASA has replaced significant projected growth in the FY06 request for the Science Directorate with annual growth of 1.5 percent in FY 07 and 1 percent thereafter, less than the projected rate of inflation.
The significantly reduced growth of the Science Directorate is of serious concern to the Committee. These reductions will necessitate the cancellation or lengthy deferral of several planned earth science and space science missions.
IN FY07, the request increases the amount available for Exploration by $928 million compared to last year's appropriated level. This funding is focused on developing the next-generation hardware to replace the Shuttle, the Crew Exploration Vehicle and its launcher. NASA expects to award contracts for the new vehicle at the end of FY06. The request reduces the amounts available for other, longer-term activities within the Science Directorate.
The Committee is again concerned about the limited funding for NASA's Aeronautics program. The budget cuts the program by 18.1%, down to $724.4 million. Reductions of this size may jeopardize NASA's ability to retain critical skills and perform ground-breaking research in support of this nationally important industry.