Upbeat House Appropriations Hearing on FY 2012 NASA Request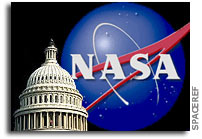 NASA Administrator Charles Bolden was warmly received at last week's hearing of the House Appropriations Subcommittee on Commerce, Justice, Science and Related Agencies. "We are really devoted to you," Rep. John Culberson (R-TX) told Bolden toward the end of three and one-half hour hearing on NASA's FY 2012 request, indicative of the members' strong bipartisan support for the space agency.
Subcommittee chairman Frank Wolf (R-VA) opened the hearing by referring to last year's "very lengthy and contentious debate" about the Administration's human space flight initiative that concluded with the passage of a NASA reauthorization bill. Wolf explained that the agency's FY 2012 request was $700 million below the level authorized by this legislation, and expressed concern about budgetary trade-offs, saying that they would "sacrifice progress on the development of the space launch system and the multi-purpose crew vehicle." Wolf doubted that these new systems would be ready by 2016.
Referring to his vote last month for H.R. 1 that would make billions of dollars of cuts in discretionary spending, Wolf explained it "was because we have to begin somewhere." Wolf called for the President and Congress to reform entitlement programs, saying that efforts to balance the entire federal budget by just cutting discretionary spending (that accounts for 15 percent of all spending) would not work.
In his opening remarks, subcommittee Ranking Member Chaka Fattah (D-PA) spoke of the importance of the country investing in technology. "I think those of us in the Congress have to speak forcefully on the need for our country to continue to invest in science," he declared.
Bolden's testimony touched on many issues. He disputed contentions that NASA was abandoning human space flight, remarking that 44 percent of the budget is devoted to the program. He testified that crew safety and continued American access to the space station were the agency's top priorities. Bolden told the subcommittee that commercial crew and cargo transportation to the station would be available by 2015 or 2016. In response to questions from Wolf and Fattah about Earth Science research conducted by NASA, NOAA and USGS, Bolden assured them that each agency administered distinct programs.
Subcommittee members asked questions on a wide variety of topics, including the agency's core mission, commercial transportation, the Chinese space program, previous and future decadal studies, planetary science, budget constraints, aeronautics research, job losses, the management of the James Webb telescope, spin-offs from NASA research, and STEM education. The prevailing sentiments in these questions were interest and concern, not criticism.
The deep interest and support that the subcommittee has for NASA and its missions was very apparent. The prevailing sentiment of the subcommittee members and an indication of how it will likely respond to the Administration's FY 2012 request was perhaps best expressed by Ranking Member Fattah who exclaimed, "what I want to do is beat everybody else. I want to make sure that America is number one. . . . I think the view has always better from the top."
Richard Jones
Government Relations Division
American Institute of Physics
rjones@aip.org
301-209-3095