Top Senate Appropriators Fault FY 2015 NASA Budget Request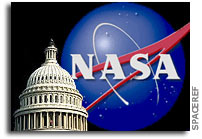 "Administrator Bolden, we really do strongly disagree on this" Senate Appropriations Committee Chairwoman Barbara Mikulski (D-MD) said at last week's hearing on the FY 2015 NASA budget request for science programs. Committee Ranking Member Richard Shelby (R-AL) was also critical as he questioned the "administration's level of commitment to a forward-thinking inspirational space program."
The one-hour hearing was short and to the point, demonstrating yet again the difficulty in putting together a balanced NASA budget with diminishing funding. That trajectory continues with the Administration's FY 2015 request that is down $185.9 million compared to the current level. Bolden has about a billion dollars less to work with than he did in 2010. According to Mikulski this is not likely to change as she told Bolden "there is not new money on the horizon."
Bolden was forthright in telling Mikulski and Shelby – the only two senators at this hearing of the Commerce, Justice, Science Appropriations Subcommittee that they are also the senior leaders of – about the great importance of fully funding the FY 2015 request for the commercial crew program. Failure to do so will delay the ability to transport U.S astronauts from U.S. soil on an American rocket to the International Space Station which is now scheduled for 2017. Bolden remarked "Budgets really are about choices. And the choice here is between fully funding the request to bring space launches back to American soil or continuing to send millions to the Russians [for Soyuz transportation to the space station.] It's really that simple."
Shelby criticized what he said was the underfunding of the Space Launch System (SLS) rocket in the FY 2015 request. The Administration's underfunding of this programs will, he charged, insert budgetary and schedule risk into the rocket program, resulting in a significantly reduced joint confidence level that is, Shelby said, "essentially a coin toss." Bolden replied that it would be unrealistic to fund the SLS to a 70 percent joint confidence level. There was also discussion about whether NASA is looking toward a 2017 or 2018 launch date for the first flight of an uncrewed Orion capsule and the SLS.
Bolden and Shelby also discussed how strained U.S.-Russian relations might affect the International Space Station. Bolden said Russia has already been paid for transportation to the station through 2017. NASA's relationship with the Russian Federal Space Agency is, Bolden assured Shelby, steady and firm, and remains that way. While the U.S. is dependent on Russia for transportation to the station, the U.S. is the dominant team member of the station for navigation, daily operations, crew activities, and scientific research. During this exchange, Bolden reiterated the importance of fully funding the FY 2015 request for the commercial crew program to keep the 2017 target date on track.
There was also discussion about NASA's exploration and science programs. Bolden spoke of the goal to make human beings a "multi-planet species" by putting people on Mars permanently. The Webb Space Telescope remains on its 2018 launch schedule. The Wide-Field Infrared Survey Telescope (WFIRST) is in the formulation stage.
The hearing turned to questions from Chairwoman Mikulski. "I was deeply troubled to receive the president's budget" with the requested $186 million cut she told Bolden, specifically criticizing the $200 million proposed reduction for the Goddard Space Flight Center. Bolden assured Mikulski of Goddard's importance and said its funding would increase in future years as missions such as WFIRST are ramped up. Mikulski disagreed saying "I don't want to talk about future missions, I want to talk about now. I want to talk about earth science, physics, planetary science. I don't want science to . . . be a bank account for other projects that might or might not happen in the future."
Mikulski returned the discussion to the commercial cargo and crew programs. "We're in relatively good shape" Bolden said, quickly adding that the commercial crew program is "in great shape." With full funding of the $848 million commercial crew program request "we should be on target for an American capability in 2017" he said.
The hearing concluded with a brief discussion of NASA's cyber-security operations. Before closing the hearing, Mikulski told Bolden "We are looking at this in a very strong way. We are committed, on a bipartisan basis, to a balanced space program. And we have big challenges ahead and we need to cooperate with you." Mikulski said she hopes to have the subcommittee's FY 2015 bill funding NASA, NSF, NIST, NOAA and a host of other federal agencies though the full committee before the end of June.
Note: selections are from a transcript prepared by and used with the permission of CQ Roll Call.
Richard M. Jones
Government Relations Division
American Institute of Physics
[email protected]
301-209-3095