Testimony of Miles O'Brien: Hearing on Enhancing the Relevance of Space to Address National Needs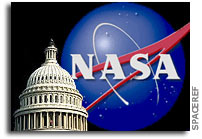 July 16, 2009
Nice of you to invite an unemployed journalist to testify – of course it is harder and harder to find employed journalists – especially on my beat.
I have been covering space for more than 17 years now…Iam a pilot and airplane owner – and come to the space beat as an enthusiastic supporter of all things that fly – and the adventure that is inherent in exploring a frontier. In fact, I spent several years trying to convince NASA to give me a ride to the space station – and we had a deal – that we would have announced a week or so after Columbia would have landed in February 2003.
In all, I have covered about three dozen shuttle missions – including John Glenn'sflight- with Walter Cronkite as my co-anchor. I got to ask him a lot of important questions – like would you like a little more cream in your coffee sir?
Actually, when I first met him – and we were talking about how we would cover the mission together.
I made the mistake of telling him he didn't need to worry about the details of the shuttle – I would handle that – and all he needed to do was regale us with tales of the Mercury 7 days – he got very upset – and asked me to get him a report on every shuttle mission – all the who what when where why's andhows – I asked him if he wanted that for all 94 missions at that time…he said greatly surprised "there've been 94 missions?"
Paraphrasing Lyndon Johnson – if we have lost Walter Cronkite – we have lost the rest of the nation.
Some of this is novelty – Lindbergh's flight was news – but when I flew the Atlantic in a little plane a few summers ago – no one cared. John Glenn's first mission was news – and certainly the intrepid crew of Apollo 11 was the obvious lead story for days – but I just flew in last night from covering the 127th shuttle launch – and whoknows who is aboard and what they are doing up there?
Part of the problem is NASA has served up a mission that seems mundane – no more interesting than watching airliners depart from National Airport. And in fact, the shuttle was sold to Congress with the promise it would make space travel as cheap and easy as airline travel – and as if to make it all seem real (even though it wasn't) – the agency went out of its way to make it look ho hum – before Challenger.
But there is another factor at work here. Apollo is NASA's greatest accomplishment to be sure – but it is also its biggest curse. It was, after all, a story that sold itself – and in fact the media frenzy was sogreat in those heady moon race years that the agency had to build some walls and moats – and hire PR people who were more likethe palace guard.
A lot of thatremains in place – and that is aided and abetted by the astronauts – who live in that palace and only open the doors and let us in for brief audiences – usually on their own limited terms. The sad irony is these people are some of the most amazing people I have met – and if they would just get out of the palace – or let thepublic in a little more – they would sell the program betterthan any piece of hardware they might be latching onto the space station.
Which leads me to the guys and gals who make the hardware – the engineers – godlove them – they make the magic happen – but they just don't get the communication thing. The public affairs missionis simply not a priority. Matter of fact it isn't even on the list of requirements. Forty years ago, they were fighting tokeep cameras off the Apollo spacecraft – afterthey simply add weight – and do nothing for their mission requirements. Imagine if that thinking had prevailed…
Well it may not have prevailed – but the debate is still alive and well as they design
the Orion capsule.
Public affairs should always be a mission requirement – and a high priorityrequirement. The TV cameras are worth their weight in gold because they let the public participatein the exploration. And let's not forget who pays the bills. Leave the public behind and there won't be any missions – much less requirements.
Which brings me to some of the places where NASA does a good job engaging the public – think of those little Rovers Spirit and Opportunity – still on Mars making the energizer bunny look like a piker. This is an example when the scientists and theengineers do not have some natural common ground. The images from other worlds – feed the scientists – as well as the public interest.
This all started with Pathfinder years ago – the first big "web-aganza" – if you will – average people could see the images at the same time as the Martians at the JetPropulsion Lab. Peeking over the scientists shoulders as they explore! What heady stuff! Talk about engaging!
That trend has continued – Phoenix became the first spacecraft to tweet – and quickly became one of the first twitter sensations – my former colleague Veronica McGregror at JPL got the idea from her kids – of course – as a way to let people know about the landing on a Memorial Day Sunday – she got a tiger by the tail – and went viral – with many tens of thousands of followers as fast as a speeding spacecraft – there were tons of very detailed questions from the space geeks – butsoon it broadened – as the choir started telling their friends. The public was engaged – exponentially.
To their credit – in Houston they saw this how potent – and astronaut Mike Massimino became the first person to tweet from space in between spacewalks tofix the Hubble Space Telescope. A giant leap for web-kind.
And speaking of Hubble – the granddaddy of all missions where the science – is the best PR message – and look what happened when NASA tried to cancel that final repair mission – engagement led to anger and ultimately activism.
Which brings me to my final point – the agency, dispersed geographically as well bycenters of expertise and excellence – does not speak with one voice as it should. Public Affairs herein Washington needs more authority to direct the far flung PR operations – and frankly they need a budget – which currently is 0. You do get what you pay for.
There is no doubt the mission is the message – and NASA needs to be taking us places where we have not been before to capture the fancy of a jaded public.
But the message is also part of the mission – it should never be an afterthought.