Testimony by Sean O'Keefe before a House Science Committee Hearing on "NASA's Work Force" [Part 2]
Statement of Sean O'Keefe, Administrator, National Aeronautics and Space Administration
 
Before the Subcommittee on Space and Aeronautics Committee on Science, House of Representatives
Increased Competition for Technical Skills
At the same time that the national S&E pipeline is shrinking, the demand for the technical skills NASA needs is increasing. The job market in the S&E occupations is projected to increase dramatically over the next ten years. The need for technical expertise no longer is confined to the technical industries that have been traditional competitors. NASA will face competition from new arenas as graduates in the S&E fields now are sought after by the banking industry, entertainment industry, and elsewhere in career fields not traditionally considered career fields for technical graduates. In the academic sector, traditionally not a competitor, we find ourselves vying for the same high-level technical workers. America's top schools now offer very competitive salaries to academicians with world-class skills – the same skills NASA seeks. Specifically, here are some of the trends that the Nation is seeing in the job market:
Increasing S&E Positions — The Bureau of Labor Statistics projects that employment in the fields of science and engineering is expected to increase about 3 times faster than the rate for all occupations between 2000 and 2010, mostly in computer-related occupations. Increases in engineering and the physical sciences are projected at 20% and 15%, respectively. [National Science Board, Science and Engineering Indicators-2002, Arlington, VA: National Science Foundation, 2002 (NSB-02-01)]

Nationwide Opportunities through 2010

 

Increasing S&E Retirements — This report also notes that with current retirement patterns, the total number of retirements among S&E-degreed workers will increase dramatically over the next 20 years. More than half of S&E-degreed workers are age 40 or older, and the 40-44 age group is nearly 4 times as large as the 60-64 age group. As employers seek to fill vacancies created by these retirements, competition for quality S&E workers will intensify.
Low Interest in Government Employment — According to a recent (October 2001) Hart-Teeter poll, the lowest levels of interest in government employment were found among college-educated and professional workers. Only 16% of college-educated workers express significant interest in working for the Federal government, and a like number of professionals and managers would opt for a government job. In contrast, the poll also revealed that positive perceptions of private sector work increased dramatically among those with formal education. This indicates that NASA will face a significant challenge in trying to attract experienced mid and senior level professionals to the Agency.

                  Lack of Diversity in the Nationwide Applicant Pool  
                 

NASA continues to face challenges in its efforts to recruit scientists and engineers from a candidate pool that is representative of the Nation's diversity. Our missions are intended to serve the interests of humanity and that means building a mission-oriented team that represents the best and brightest of America. As the Bureau of Labor Statistics Report, "Working in the 21st Century," has noted, "minorities are the fastest growing part of the labor force."   Unfortunately, the S&E labor pool does not follow this trend.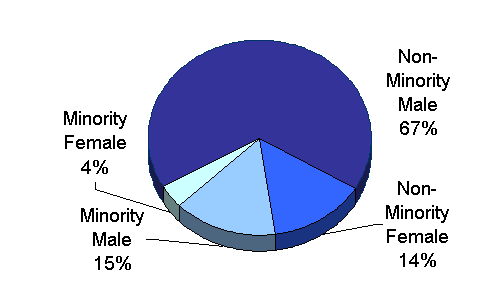 At this time, the diversity of the NASA S&E workforce mirrors that of the U.S. S&E workforce—it is predominantly comprised of white males. Currently, 80% of the S&E workforce within NASA is white; 4.7% is Hispanic; 5.7% is African-American, and 7.3% is Asian/Pacific Islander. Female representation is 18%. Since the undergraduate S&E pool also lacks diversity to the same or greater extent, NASA is unlikely to improve upon these demographics without new tools, flexibilities, and strategies. Employers from private industry and academia as well as the public sector all wish to achieve diversity within their workforce, so competition for a relatively small pool of minority and female scientists and engineers is keen. NASA must struggle to compete with these employers, many of whom have the means to offer more competitive job offers to achieve their diversity goals.
NASA Demographics and Trends
                  Current Skills Imbalances, Gaps, and Lack of Depth Within the NASA Workforce
The trends I have just outlined are not unique to NASA; we share them with other employers in the labor market today. Unfortunately, the difficulties they present to NASA's ability to manage our human capital are only exacerbated by several Agency-specific threats, warning us that we need to pay attention to these indicators before they result in a crisis. The challenge of acquiring and retaining the right workforce is not a problem of the future—it exists now. The Agency currently has skill gaps in areas such as nanotechnology, systems engineering, propulsion systems, advanced engineering technology, and information technology. In emerging technology areas, NASA projects the need to employ more civil servants in "hard to fill" areas such as astrobiology, robotics, and fundamental space biology. In other professional areas such as financial management, acquisition, and project management, a lack of depth is becoming detrimental to our ability to manage our resources and programs.
NASA's has undergone significant downsizing over the past decade, reducing its workforce from approximately 25,000 civil servants in FY 1993 to slightly more than 18,000 by FY 2002. NASA made every effort to retain key skills, but in order to avoid involuntary separations in achieving those reductions, it was not always possible to control the nature of the attrition. Inevitably, we lost some individuals with skills we couldn't afford to lose, and now these skills need to be replaced. Through downsizing and the natural attrition process, we lost key areas of our institutional knowledge base.
The 2001 report of the Aerospace Safety Advisory Panel made specific references to NASA's skills deficiencies when they noted the following:
NASA faces a critical skills challenge in the Shuttle and International Space Station programs despite resumption of active recruitment.
The Agency must ensure the availability of critical skills, using appropriate incentives when necessary to recruit and retain employees.
Recent downsizing and hiring limitations by the Agency may cause a future shortage of experienced leadership.
The shortage of experienced, highly skilled workers has contributed to increases in workforce stress.
Unfortunately, NASA's need to reconstitute the workforce with the right skills and abilities is occurring at the very time in which competition for workers with those skills is intense.
Significant Loss of Knowledge Due to Potential Retirements within the S&E Workforce
I have just discussed the skills imbalances that NASA faces today. The situation promises to worsen with time. New skills imbalances will occur over the next several years as the aging workforce reaches retirement eligibility. Approximately 15% of NASA's S&E employees are eligible to retire now. Within 5 years, almost 25% of the current workforce will be eligible to retire. Historical attrition patterns suggest that the percentage of those eligible for retirement should remain level at around 15-16% each year.  In an Agency where the expertise is not as deep as we would like it to be, even a few retirements can be critical. Everywhere I go across the NASA Centers, I hear the same story:  "We're only one-deep. We can't afford to lose that skill."  Clearly the Agency must begin preparing for its projected workforce needs now since a quarter of its senior engineers and scientists will depart this decade and the job market is far more competitive than in the past.
Another way to look at the potential loss of knowledge is to examine NASA's current S&E profile. At this time, within the S&E workforce, NASA's over-60 population outnumbers its under-30 population by nearly 3 to 1. The age contrast is even more dramatic at some NASA Field Centers. While touring the Marshall Space Flight Center, I discovered that only 62 engineers out of a 3,000-person workforce were less than 30 years old. At the Glenn and Ames Research Centers the gap between the over-60 and under-30 population is 5 to 1, and at Langley Research Center it increases to 7 to 1!  By comparison, in 1993 the under-30 S&E workforce was nearly double the number of over-60 workers. This is an alarming trend that demands our immediate attention with decisive action if we are to preserve NASA's aeronautics and space capabilities.
Increased Recruitment and Retention Problems
The last NASA trend I want to discuss with you today involves the evidence of increased difficulty of recruiting and retaining employees. Historically, NASA has enjoyed unusually low attrition rates, due in part to the attraction of our unique mission and the fact that our employees simply love their work and stay on the job longer than the typical worker. However, one recent trend is concerning. We have noted an alarming attrition pattern among NASA's most recent hires. Compared to an overall attrition rate of just under 4% for all S&E's, the departure rate for S&E's hired since 1993 is nearly double – despite the fact that in the fall of 2000 the Agency completed downsizing.
Another indicator of increased recruitment and retention challenges is the extent to which we at NASA have had to utilize monetary incentives to sustain a workforce with the right skills. The number of recruitment bonuses given to scientists and engineers increased significantly over the past three years. In FY 2001, 18% of the new S&E hires were given recruitment bonuses –in contrast to previous years in which the percentages were in single digits. In FY 2001 there were fewer S&E hires than in the previous year (521 versus 627), yet almost twice as many recruitment bonuses were needed to attract the desired recruits. Even utilizing all the tools at hand, we are at a disadvantage when competing with the private sector. The situation is particularly poignant at places like Kennedy and Johnson; the inability to entice their candidates of choice to work at the Cape or at "Mission Control" on the Space Program is a scenario few at these Centers could have anticipated.
Our challenge continues once we manage to hire our personnel. Although our historical attrition rates are low, we notice an alarming development among our youngest S&E population. After factoring out the 55+-retirement eligibility group, attrition among the S&E workforce is highest in the 25-39 age group. This phenomenon has a multi-faceted impact on NASA. It represents a lost investment for the Agency; shrinks the potential pool of future leaders and managers; and skews the average age of S&E workforce toward retirement eligibility age.
The need for retention bonuses to keep individuals with critical skills has increased dramatically as well. In FY 2001, we gave 38 such bonuses. This is greater than the total number of retention bonuses given for the previous 4 years!
Help is Needed
All of these trends provide immediate warning signals that significant measures must be taken to address workforce imperatives that ultimately impact mission capability. We cannot resolve these new and emerging problems with past solutions, nor are current personnel flexibilities adequate.
To address the human capital challenges I have outlined for you today, NASA needs additional tools. We have used the ones we have and we have been innovative and imaginative but we need the Congress' assistance. Specifically, we need legislative solutions giving us the tools and flexibilities to:
      Encourage students to pursue careers in science and technology;
      Compete successfully with the private sector to attract and retain a world class workforce;
      Build a workforce that is representative of the Nation's diversity, and
      Reshape the workforce to address skills imbalances and gaps, and leverage outside expertise to address skills gaps and strengthen NASA's mission capability.
Each request in the legislative proposal has been carefully crafted to enhance NASA's ability to manage our human capital efficiently and effectively, in concert with the mandate of the President's Management Agenda – and plain old-fashioned good, sound management. Many of these provisions have been implemented by other agencies (such as the Department of Defense in their demonstration projects, and the Internal Revenue Service through their reform legislation), and are consistent with the Administration's Managerial Flexibility Act, now under consideration by the Congress. Without these legislative tools, NASA's challenges will soon become its crisis in human capital management.
Legislative Proposals
We are proposing several legislative provisions to address the threat to the S&E pipeline. Last summer, NASA submitted to the Congress the NASA Science and Technology Career Enhancement Act of 2001. This bill's Scholarship for Service program would offer college scholarships to students pursuing undergraduate and graduate degrees in science, engineering, mathematics, or technology. In return, the students would fulfill a service requirement with NASA following their graduation, thus providing a return on our investment. Current statutes do not allow a service obligation for scholarship recipients.
The NASA Industry Exchange Program, modeled on the very successful Intergovernmental Personnel Act authority, introduces a means for NASA to engage in mutually beneficial, collaborate ventures with industry to infuse new ideas and perspectives into the Agency, develop new skills within the workforce, and strengthen mission capabilities. Without such an authority, talented individuals from industry remain an untapped resource for the Agency since the salaries and benefits of the Federal sector are not competitive with the compensation packages offered to industry's most talented workers. Assignments would be limited to 2 years, with a 2-year extension, and would adhere to current statutes covering government ethics, conflicts of interest, and procurement integrity.
Enhancing the Intergovernmental Personnel Act authority to permit assignments up to six years (rather than 4) is another tool that will facilitate knowledge transfer – an important goal of an Agency that must sustain its intellectual capital. This flexibility will allow individuals from academia or other institutions to continue working in support of long-term projects or programs when the need for continuity is critical.
Several provisions of the bill enhance NASA's ability to recruit and retain a high quality, diverse workforce. The streamlined hiring authority for severe shortage and critical needs positions is necessary for NASA to conduct the hiring process more effectively. Using this authority, NASA could make "immediate" job offers to qualified individuals in shortage occupations or where there is a critical hiring need without the need to undergo the usual lengthy and cumbersome evaluation process. Eliminating delays in extending job offers in today's competitive market may mean the difference between hiring a quality engineer, scientist, or information technologist and losing the candidate to the private sector or academia.
The category rating methodology will provide NASA with a more streamlined candidate evaluation process that expedites the recruitment process, provides flexibility in selections, and preserves veterans preference and merit principles. The current method for evaluating and selecting candidates involves assigning candidates a point score between 70 and 100. The selecting official may select only from among the top 3 candidates. This is a cumbersome evaluation process that eliminates candidates based on numerical score differences, where such fine distinctions really are unrealistic and have little meaning. This complex process results in only a limited choice of candidates from which to select, and denies access to other potentially highly qualified individuals. With the proposed category rating system, tested with great success in other agencies, candidates would be evaluated using a simplified method that places them into general quality groups such as "highly qualified" and "qualified," rather than assigning a numerical rating. The manager could select anyone in the top group, unless there is a veteran. Veterans receive top selection priority. These provisions give managers wider latitude to select the individuals they find best suited to their jobs, while simplifying and accelerating the process for candidates and managers.
Enhanced recruitment, relocation, and retention bonuses will help us with enhanced authority to offer financial incentives to individuals to come to work for us, to relocate to take on a new assignment, or to remain with the Agency instead of leaving to pursue a more lucrative job opportunity or retiring. Current bonus authority offers up to 25% of basic pay, and has proved useful – to a point. Our proposal would base bonuses on the higher locality pay salaries, allow greater amounts when coupled with longer service agreements, and make more flexible payment options available (such as a choice between up front payments, installments, and payments at the conclusion of an assignment). These payment options could be tailored to the situation at hand, and tie payment of the incentive to actual performance.
The term appointment authority is used extensively within the Agency to support many NASA programs and projects. It is useful for work of a time-limited duration, and it allows the Agency to terminate employment without adverse action when the need for the work/competencies wanes. The bill's provision to allow a limited number of term appointments to be extended up to six years, rather than four, will enhance its usefulness by accommodating the length of some NASA programs and projects. In addition, the bill provides that a term employee may be converted to a permanent position in the same line of work without further competition, provided the employee was initially hired under a competitive process and the public notice specified the potential for conversion. This provision does not alter any feature or principle of the competitive process, but eliminates the need for duplicative competition. Ultimately it may make the concept of term appointments more attractive to potential applicants and thereby provide a more robust labor pool for NASA management to consider. Conversions of term employees to permanent positions that differ from the position for which the employee initially competed would require internal competition.
In order to attract world-class talent into NASA's most essential positions, we propose changes to the authority to pay employees in critical positions. We seek authority to grant critical pay for up to 10 positions per year, subject to approval by the NASA Administrator, with pay up to that of the Vice President (currently $192,600). These enhancements will help us compete in an enormously competitive job market. The provisions raising the annual compensation cap for NASA excepted employees appointed under the Space Act from Level IV of the Executive Schedule to Level III will address this need as well. Based on current salaries, this would allow an increase from $130,000 to $138,200.
Separation incentives ("buyouts") and early retirements ("early outs") are valuable tools to encourage voluntary attrition as the Agency rebalances skills and reshapes its workforce. NASA needs the tools to encourage targeted attrition in areas in which the need for certain skills has diminished so that it can recruit and reshape a workforce that is aligned to current and future mission needs.
Finally, the streamlined demonstration authority provision provides the Agency with an effective and extensively tested mechanism for pursuing additional human resources innovations in response to changing workforce needs. A number of agencies, notably the Department of Defense and Department of Agriculture, have operated highly successful projects. Unfortunately, the legal requirements to initiate a demonstration project are daunting.  Current law limits "demo" projects to 5,000 employees, requires multiple Federal Register notices, a public hearing, and a 180-day notice to affected employees. Once an agency successfully tests a system, it must seek additional legislation to make that system permanent. The authority we are seeking would remove the coverage limit to allow widespread testing of new ideas, and shorten the steps to implement a project. Once a project proves successful, the Office of Personnel Management could approve conversion from a demo to a permanent alternative personnel system without further legislation.
Mr. Chairman and Members of the Subcommittee, each of these legislative provisions when taken individually will only help NASA deal with its human capital strategic threats to a limited degree. However, when taken together as an integrated package they form a strong nucleus in support of the Agency's Strategic Human Capital Plan and the President's Management Agenda, and will be invaluable as we deal with a diminishing pipeline, recruitment and retention of a world-class workforce, and skills imbalances. With these tools in hand, we will be able to avert a serious human capital crisis at NASA.
The missions we seek to lead and make possible are the visions that we all have for our future – new launch systems, innovations in high-performance computing, advances in biological research and exploration of our cosmos that extend our lives and way of life out there. Those things can only happen if we have the people that can make them happen. Technology and exploration will go nowhere without the human know-how and presence to make today's impossible into tomorrow's reality. After meeting and working with many of the men and women of NASA these past several months, I know we can do those things and I look forward to working with you and sharing the rewards of your investment and trust in us.