Sustaining the Commitment: FY 2012 Request Keeps Budget Doubling on Track for NSF, DOE Science, and NIST Research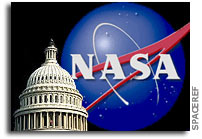 The FY 2012 budget request that President Obama sent to Congress sustains his commitment to keep the budgets of the National Science Foundation, the Department of Energy's Office of Science, and the laboratory programs of the National Institute of Science and Technology on a doubling trajectory. Set against the second year of a proposed five year freeze in total non-security discretionary spending, the S&T request is a reaffirmation of the President's belief in the importance of science and technology to strengthen the nation's economic and national security.
Office of Science and Technology Policy Director John Holdren and his four associate directors were upbeat at Monday's briefing in describing the FY 2012 science and technology request. Declaring "this is a budget that our Nation can be proud of," Holdren said the $147.9 billion request for Federal R&D is necessary to, as the President has stated, to out-innovate, out-educate, and out-build the rest of the world.
Calculating the requested changes in department and agency FY 2012 budgets is considerably more difficult this year because final FY 2011 appropriations bills have not been enacted. The House of Representatives is working toward a scheduled vote on a continuing resolution this week that would make dramatic cuts – beyond those first proposed last week – in science and technology budgets tracked by FYI. There is little or no chance the Senate will pass this bill, resulting in a standoff that some are now predicting could lead to a government shutdown after current funding expires on March 4. The best case scenario at this point is a series of additional short term funding measures that will keep the government open.
Without firm numbers for current FY 2011 appropriations, traditional year-to-year budget comparisons cannot be made. As a result, the Administration is, in almost all cases, comparing its new FY 2012 request to FY 2010 funding levels. FYI will use this format.
The following are increases and decreases in science and technology budgets tracked by FYI as compared to FY 2010 funding levels. Greater detail on these requests will be provided in future issues of FYI. Note that some of the comparisons include FY 2010 earmarked funding and budgetary adjustments; the below percentages represent the "bottom line" figure usually taken from the budget submissions sent to Congress.
National Nuclear Security Administration, Weapons Activities: + 19.5 percent
National Nuclear Security Administration, Total: +19.3 percent
National Institute of Standards and Technology: +16.9%
National Science Foundation: +13.0%
NASA, Science: +11.5%
Department of Energy Office of Science: +9.1 percent
National Institute of Biomedical Imaging and Bioengineering: +1.8 percent
U.S. Geological Survey: +0.6 percent
NASA: no change
Department of Defense Science and Technology Programs (6.1, 6.2, 6.3): -8.0 percent