STS-107 Crew Studies Combustion Properties, Conducts Biomedical Experiments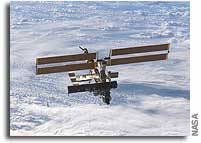 Aboard Space Shuttle Columbia, the seven-member STS-107 crew continued to press ahead with science activities Sunday. Crewmembers collected data from the Combustion Module located in the SPACEHAB Research Double Module.
On the biomedical front, the crew conducted experiments that study the human body's reaction to weightlessness. Protein manufacturing and bone and calcium production were two of the areas looked at during Sunday's biomedical research.
The crew also continued work with the Mechanics of Granular Materials, or MGM, experiment and the Mediterranean Israeli Dust Experiment, or MEIDEX. MGM, which is studying the behavior of saturated sand when exposed to confining pressure, could provide data that could help in strengthening buildings against earthquakes. MEIDEX is studying dust clouds in the Mediterranean Sea region.
Sunday was the fourth day of the STS-107's 16-day mission.