Stardust Status Report November 15, 2002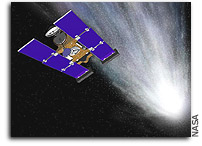 Stardust successfully completed playback of images this week from its
flyby of asteroid Annefrank the previous week. The success of the
flyby was reported by many news publications and newscasts around the
world.
The spacecraft is operating in good health. Two periods of radio contact
through antennas of the Deep Space Network provided communications with
the flight team.
Stardust personnel participated at a "lessons-learned" meeting on
November 11 and 12 and discussed activities that went well during
the Annefrank flyby and activities that could be improved for the
primary encounter with Comet Wild 2 in 2004.
For more information on the Stardust mission — the first ever comet
sample return mission — please visit the Stardust home page: