Stardust Status Report July 18, 2003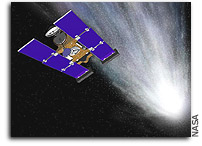 The Stardust team had seven periods of communication with the spacecraft in
the past week. Telemetry relayed from the spacecraft indicates it is
healthy and all subsystems continue to operate normally.

Trajectory Correction Maneuver 9 was successfully completed on July 16. The
1 meter per second burn took about forty-three seconds to complete.
Post-burn analysis indicates burn maneuver was right on the money. After
the maneuver, the Cometary Interplanetary Dust Analyzer instrument was
returned to operations. The Cometary Interplanetary Dust Analyzer was
powered off for Deep Space Maneuver 3, which occurred back on June 17 and
18. The analyzer will now remain operational until after the Comet Wild 2
encounter.

Information on the present position and orbits of the Stardust spacecraft
and comet Wild 2 may be found on the "Where Is Stardust Right Now?" web
page located at:

http://stardust.jpl.nasa.gov/mission/scnow.html

For more information on the Stardust mission — the first ever comet
sample-return mission — please visit the Stardust home page:

http://stardust.jpl.nasa.gov .