Stardust Status Report January 31, 2003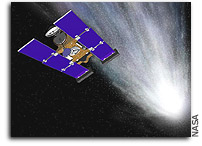 Telemetry downlinked from the spacecraft this past week indicates Stardust
continues to be healthy and that all subsystems were running normally.
This past week, the Stardust flight team had use of the antennas of JPL's
Deep Space Network on four occasions. Due to some minor communication
snags in the Deep Space Network, images of the Pleiades star cluster taken
by Stardust's navigation camera were not downloaded as scheduled. These
images will remain onboard the spacecraft until they can be downloaded
at a later date. The Pleiades images will be used to evaluate performance
of the spacecraft's periscope.
The Stardust team continues to benefit from the successful November 4, 2002,
flyby of asteroid Annefrank. The flyby was used as an engineering test of the
ground and spacecraft operations for the Comet Wild 2 encounter (336 days
from now). If not for Annefrank, much of Stardust's operational readiness
testing for comet encounter would have relied on time-consuming computer
simulations. With less effort now required to prepare for Comet Wild 2
because of the success at Annefrank, the team is now looking beyond
Comet Wild 2, reviewing plans and testing systems needed for Earth return
in January of 2006.
For more information on the Stardust mission — the first ever comet
sample-return mission — please visit the Stardust home page: