Stardust Status Report January 17, 2003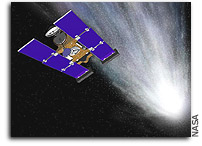 This past week, the Stardust flight team had two periods of communication
with the spacecraft courtesy of the antennas of JPL's Deep Space Network.
The telemetry relayed during this interval indicated the spacecraft is
healthy and all subsystems were running normally.
During the second period of communications the Stardust team successfully
powered up the spacecraft's Comet and Interstellar Dust Analyzer. This
instrument is a mass spectrometer that will be used to study the chemical
composition of individual particulates in the comet's coma during
Stardust's encounter with Comet Wild-2 next year.
For more information on the Stardust mission — the first ever comet
sample-return mission — please visit the Stardust home page: