SpaceRef/NASA Watch Reader Notes on the 19 August 2005 PCRB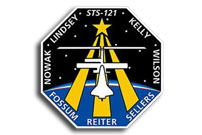 "At the start of the PCRB,  Wayne Hale said that this was a fact-finding discussion and that no decision would be made today. KSC presented their schedule for the 3 March 2006 STS-121 and 3 May 2006 STS-115 launches.  They estimated that ET-119 (STS-121) would be at Michoud by 28 August 2005 and then on-dock at KSC by 12 November 2005.
ET-120 would be at MAF 29 September and ET-118 (for STS-115) would be on-dock at KSC by 17 January 2006.
Wayne Hale's comments were to the effect that he was not confident that we could meet the November delivery.  He said, "we are going to do the right thing by the tank" and he didn't think there'd be enough time to find the root cause, come up with a solution, and implement it by the KSC November need date.
A CR (Change Request) is out for review which would change the launch dates.  This CR will come back to the PRCB on 8 September 2005.  Of interest is that this CR de-manifests STS-118.  It also cancels STS-301 and replaces it with STS-300 for the LON (Launch on Need) mission set at 20 April 2006."