Space Station On-Orbit Status 17 May 2003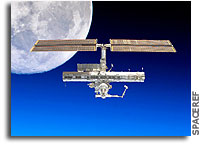 All ISS systems continue to function nominally, except as noted previously or below.  Saturday, the first of two off-duty days for the crew (except for standard maintenance and optional task list jobs).
Floating through their voluminous residence after wake-up at the regular 2:00am EDT, morning inspection, hygiene and breakfast, the two crewmembers performed the regular weekly 3-hr. housecleaning.  [The "uborka stantsii" focuses on removal of food waste products, cleaning of compartments with vacuum cleaner, wet cleaning of the Service Module (SM) dining table and other surfaces with disinfectants ("Fungistat") and cleaning of fan screens to avoid temperature rises.]
CDR Yuri Malenchenko then completed the daily routine maintenance on the SM's SOZh life support system, while FE/SO Ed Lu prepared the daily IMS (inventory management system) delta file for automatic export/import to update the database.
Working from the Russian discretionary task list, Malenchenko conducted another session of the Russian GFI-8 Uragan ("hurricane") earth imaging program, using the Kodak DCS760 digital still camera with 800-mm lens to image the City of Abuja in Nigeria, one of the fastest growing population centers in the Third World.  [Detailed imagery of such cities and their suburbs is used for the analysis of these rapidly changing entities.]
Lu and Malenchenko completed their daily physical exercise program, on TVIS treadmill, RED (resistive exercise device), CEVIS bike and, for Yuri, on the Russian VELO cycle ergometer with load trainer.
Due to the premature wear found on the just-removed RED Flexpack canister cords, the crew was asked to perform, for thenext two weeks, a daily inspection on the cord of the front can, to ensure that the new cord installed is not quickly compromised with abnormal or unusual wear.  This visual inspection, to be made prior to the beginning of the exercise session, will take only about one minute.
The crew had their weekly conferences with the JSC Astronaut Office (Kent Rominger) and ISS Program management.
A master list of all on-board hard-copy procedure books and recent pen-and-ink changes was uplinked.  [There are over a dozen procedures books in the station, covering caution and warning, emergencies, EVA systems, structures & mechanics, photo/television, medical checklists, and payload ops.  They are hard copies, in case the electronic files/reader system is unavailable.]
Next Monday's EVA suit activities review (to prepare for the suit don/doff dry-run on 5/28) has been added to the crew's "job jar" task list, so that the Ed and Yuri have the choice of doing it over the weekend.  [The review uses video instruction uplinked to the MACE (mass access computer equipment) in .mpg file format.]
Also on the task list and hard-scheduled for 5/20 (Tuesday) is the Expedition 7 crew's required computer-based training (CBT) for the Human Research Facility's Gas Analyzer System for Metabolic Analysis Physiology (HRF GASMAP).   [In a change from Increment 6 procedures, the 90-day health check has been replaced by 30-day health checks for this increment.  Also, while the CBT calls for a warm-up period of 5 hours, the procedure specifies only a 3h warm-up (2h standby mode plus 1hr of operate mode).  HRF personnel will be on console to support the GASMAP activity on 5/20.]
Today's CEO (crew earth observations) targets, severely restricted by limited the use of the science window in the Lab due to the current XPOP attitude, were El Paso, Texas (nadir pass), Monterrey, Mexico (nadir pass), Smoke, central & south Mexico (Dynamic event. Clouds have dispersed so that smoke from fires on the Mexico-Guatemala border should have been visible in much of the western Gulf of Mexico, with margins between separate masses of smoke.  Smoke reported thickening and drifting north under track.  Shooting obliques left and right.  Source fires should have been visible in the morning), Anatahan Volcano, N. Marianas (Dynamic event. Anatahan Volcano, about 2.5 deg right of track.  The plume has fanned out very wide, so wide angle lenses were probably called for), and Angolan Biomass Burning (fires starting very early this year in the most combustible part of the planet.  Looking left and right for fires and smoke palls).
CEO images can be viewed at the websites
http://eol.jsc.nasa.gov and
http://earthobservatory.nasa.gov
ISS Orbit (as of this morning, 7:36am EDT [= epoch]):
Mean altitude — 389.6 km
Apogee — 393.8 km
Perigee — 385.4 km
Period — 92.35 min.
Inclination (to Equator) —  51.63 deg
Eccentricity — 0.0006257
Orbits per 24-hr. day — 15.59
Mean altitude loss in last 24 hours — 30 m
Revolutions since FGB/Zarya launch (Nov. '98)  — 25621
For more on ISS orbit and worldwide naked-eye visibility dates/times, see http://www.hq.nasa.gov/osf/station/viewing/issvis.html