Space Station Expedition 34 Gets Back to Work After Christmas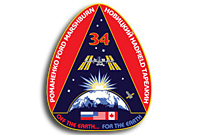 Expedition 34 is back to work after celebrating Christmas in space. The station's newest trio is getting up to speed on station systems having been aboard the orbital laboratory for five days now.
Commander Kevin Ford worked on a couple of experiments Wednesday as well as checked out software and hardware. He worked with LEGO(c) Bricks to demonstrate scientific principles for students. He also tested his perception in microgravity for the Reversible Figures experiment.
Ford worked throughout the day inside the Kibo lab loading new software for the Gradient Heating Furnace which is mainly used for high quality crystal growth experiments. He also spent time aligning pulleys for correct clocking on the Advanced Resistive Exercise Device (ARED)
New Flight Engineers Chris Hadfield and Tom Marshburn continued their orientation and familiarization activities. They also worked throughout the station on various science and maintenance activities.
Hadfield assisted Ford aligning pulleys on the ARED and relocated items for stowage inside the Columbus lab. Marshburn changed out a lamp and set up the LEGO Bricks experiment for Ford. The duo also tested themselves for the Reversible Figures experiment.
The three cosmonauts Flight Engineers Oleg Novitskiy, Evgeny Tarelkin and Roman Romanenko stayed busy in the Russian segment of the space station.
Romanenko, the station's newest cosmonaut and veteran of Expedition 20, continued his orientation tasks. He also assisted the other cosmonauts on some ongoing Russian experiments.
Novitskiy set up the Typology experiment which studies a crew member's work performance in space. He also participated in a similar experiment that observes the dynamics of crew members working together in space over time.
Tarelkin spent most of his morning conducting the Typology experiment. He also transferred gear to a docked Progress vehicle for stowage and updated the station's inventory management system.