Space Shuttle Processing Status 16 Dec 2002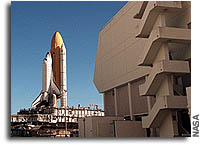 Shuttle Processing Note: During standard inspections that are performed on all shuttles as part of the Orbiter Maintenance and Modification (OMM) period, technicians found a crack earlier this week in a 2.25-inch diameter metal ball associated with a tie rod assembly inside Discovery's 17-inch liquid oxygen line. The assembly, called the Ball Strut Tie Rod Assembly (BSTRA), is a type of flexible support located in the interior of the line downstream of the 17-inch disconnect. Several such assemblies are located in both the liquid oxygen and hydrogen lines of the orbiter. Further inspections of Discovery have revealed no additional cracks, although the inspections are continuing. An engineering analysis and evaluation of the situation is under way.
MISSION STS-107 SPACEHAB/FREESTAR MICROGRAVITY RESEARCH MISSION
VEHICLE: Columbia/OV-102
TARGET LAUNCH DATE: Jan. 16, 2003
TARGET LANDING DATE: Feb. 1, 2003
MISSION DURATION: 16 days
CREW: Husband, McCool, Anderson, Chawla, Brown, Clark, Ramon
ORBITAL INSERTION ALTITUDE AND INCLINATION: 150 nautical miles/39 degrees
Shuttle Processing Note: ShuttleColumbiaarrived Monday at Pad 39-A in preparation for its Jan. 16 launch on the Spacehab microgravity research mission. Auxiliary Power Unit hot fire and launch pad validations are complete. Preparations are in work for loading hypergolic reactants on the Shuttle. The Terminal Countdown Demonstration Test is scheduled for next week.
 
MISSION STS-114 — 17TH ISS FLIGHT (ULF1) – CREW ROTATION/MULTI-PURPOSE LOGISTICS MODULE
VEHICLE: Atlantis/OV-104
TARGET LAUNCH DATE: March 1, 2003
TARGET LANDING DATE: March 13, 2003
MISSION DURATION:12 days
SHUTTLE CREW: Collins, Kelly, Noguchi, Robinson
ISS EXPEDITION CREW 7: Malenchenko, Kaleri, Lu
ORBITAL ALTITUDE AND INCLINATION:122 nautical miles, 51.6 degrees
Shuttle Processing Note:  Atlantis continues to be processed for its March launch to the International Space Station. Payload premate test preparations are in work. Forward Reaction Control System and wheel and tire installation are scheduled for next week.
As part of the analysis under way of the crack found in the BSTRA on Discovery, technicians are inspecting similar areas on Atlantis. The initial inspections of Atlantis have found no cracks. Further inspections may be performed. Pending those activities, Space Shuttle Main Engine installation could begin as early as tomorrow.
 
MISSION STS-115 — 18th ISS FLIGHT (12A) P3/P4 SOLAR ARRAY
 
VEHICLE: Endeavour/OV-105
TARGET LAUNCH DATE: May 23, 2003
TARGET LANDING DATE: June 3, 2003
MISSIOND URATION: 10 days
CREW: Jett,Ferguson, Tanner,Burbank, MacLean, Stefanyshyn-Piper
ORBITAL INSERTION ALTITUDE AND INCLINATION: 122 nautical miles/51.6 degrees
Shuttle Processing Note: Endeavour continues its deservicing and processing in preparation for the STS-115 mission to the International Space Station scheduled in May 2003. Heat shield removal is in work and Shuttle Main Engine Removal is scheduled for early next week.
Inspections of internal propellant line tie rod assemblies also are planned on Endeavour to gather data to be used in the analysis of a crack found in an assembly on Discovery. Endeavour's inspections may begin this weekend and continue after the main engines are removed next week.