Space Shuttle Endeavour Fueling Complete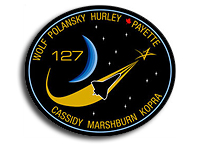 The countdown to launch of space shuttle Endeavour is under way at NASA's Kennedy Space Center in Florida, where the shuttle's large orange external tank has been filled with a half-million gallons of liquid oxygen and liquid hydrogen. Both propellants have reached "stable replenish," in which small amounts that boil away during the rest of the countdown are replaced. Stable replenish will continue until the final minutes before launch.
The countdown has entered a two-hour, thirty-minute planned hold at T-3 hours. Launch is scheduled for a 6:51 p.m. EDT, with weather being the only concern.
Launch coverage will begin at 1:30 p.m. on NASA Television and NASA's Launch Blog.