Space Shuttle Endeavour Docks at Station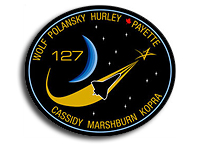 Commander Mark Polansky docked space shuttle Endeavour to the International Space Station's Harmony node at 1:47 p.m. EDT while flying about 220 miles above the Gulf of Carpentaria, off the north coast of Australia.
Following leak checks, the hatches between the two craft will open at 3:43 p.m., creating the first 13-member crew in space history. Shortly after hatch opening, NASA Television will air the traditional Welcome Ceremony.
At about 5:13 p.m., Endeavour Mission Specialist Tim Kopra and space station Flight Engineer Koichi Wakata will swap crew affiliations when they exchange Soyuz seatliners. Wakata has spent 124 days in space, 122 days as a space station Expedition crew member. He is the first astronaut to span three Expedition crews – 18, 19 and 20. When he lands aboard Endeavour, he will have served as a member of five space crews, including STS-119 and STS-127.