Space Shuttle Atlantis is in Orbit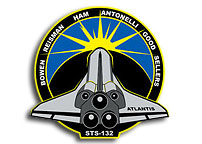 Main engine cutoff is confirmed — space shuttle Atlantis is officially in orbit, kicking off its STS-132 mission and the pursuit of its target, the International Space Station.
Atlantis lifted off from NASA's Kennedy Space Center right on time at 2:20 p.m. EDT, rising into a picture-perfect Florida sky and capping a relatively problem-free countdown.
NASA Television will air the post-launch news conference at about 3:20 p.m.