Space Generation Advisory Council to fund two representatives to help plan next 50 years in space – Have your say!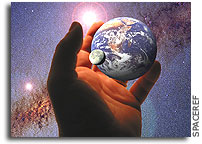 Travel expenses will be available for two young people to attend a space planning workshop including prominent individuals such as Freeman Dyson, Elon Musk and Dr Harrison Schmitt. The workshop will be held in conjunction with a conference titled, "The Future of Space Exploration: Solutions to Earthly Problems?", taking place on April 12-14 2007.
The selection of the two youth representatives will be based on volunteer contributions to the planning and execution of a survey on the topic "Key Events for the next 50 years". The youth volunteers will be asked to participate in the survey processing, and the writing of the report. The top two contributors to this process will be selected and funded to travel to the workshop. To be eligible you must be between 18 and 29 years old on 12 April 2007.
Register now to access the participants section and to become eligible for delegate selection at http://spacegeneration.org/index2.php?q=node/13
The deadline for Round 1 applications is 15th of January, 2007 for the survey. (http://www.spacegeneration.org/survey/survey.php?id=4QG3M1AF). Delegates can join in until then (http://www.spacegeneration.org/index2.php?q=node/13)
This project is organised by SGAC, in partnership with the Frederick S. Pardee Center for the Study of the Longer-Range Future, the Boston University Center for Space Physics, and the Secure World Foundation.