Shuttle Teams Make Leak Repairs, Consider Launch Options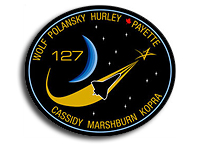 NASA managers will make a final decision by Monday afternoon about whether to launch space shuttle Endeavour on Wednesday, June 17 or wait until later in the week.
Technicians at NASA's Kennedy Space Center are working to fix a leak associated with the gaseous hydrogen venting system outside Endeavour's external fuel tank. The leak postponed Endeavour's Saturday morning scheduled launch to the International Space Station. Teams on Kennedy's Launch Pad 39A are in the process of changing out internal seals in the Ground Umbilical Carrier Plate, or GUCP, which is attached to the external tank. The vent line runs from the GUCP, away from the launch pad to a "flare stack" where excess hydrogen is safely burned off.
Managers met Sunday afternoon to evaluate how repairs are going and assess when Endeavour's next launch attempt will be. The earliest the shuttle could be ready for liftoff is June 17, however there is a conflict on that date with the scheduled launch of NASA's Lunar Reconnaissance Orbiter/Lunar Crater Observation and Sensing Satellite from Cape Canaveral Air Force Station, Fla.
NASA managers are looking to maximize launch opportunities this week for both the shuttle and the LRO/LCROSS missions. If there are no issues with Endeavour's repair work, the shuttle would attempt to launch on June 17 and LRO/LCROSS would have launch opportunities on June 19 and 20. If Endeavour doesn't launch on June 17 and LRO/LCROSS launches on that day, the shuttle could make a launch attempt on June 20.
Endeavour's leak is similar to what happened during the first launch attempt of space shuttle Discovery's STS-119 mission in March. Technicians are using the same repair method, which led to Discovery's successful launch on its next attempt.