Russia Announces Next Manned Space Flights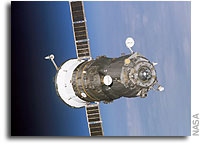 Russia has announced the dates of its next manned space flights, after delaying previously scheduled missions following the crash of an unmanned Soyuz rocket carrying cargo to the International Space Station.
In a statement Tuesday, Russia's space agency Roskosmos said the next manned space flights are now set for November 12 and December 20. The Soyuz crash last month prompted Russia to cancel all manned flights pending an investigation into the accident.
Roskosmos also announced plans to send an unmanned cargo ship to the space station on October 30. Earlier, the Russian space agency said it would like to send two unmanned missions up before flying any manned missions.
With the retirement of the U.S. Space Shuttle fleet, Russia is the only country capable of sending manned missions into space. But Roskosmos says it is closely consulting with its colleagues at the U.S. space agency, NASA, regarding upcoming missions.
The first three of the six astronauts on board the International Space Station are scheduled to return to Earth on Friday. NASA raised the prospect of bringing the remaining crew home if the space station cannot be resupplied by the end of November.