Report of Investigation into Allegations that Members of a NASA-Supervised Advisory Committee Violated Federal Conflict of Interest Laws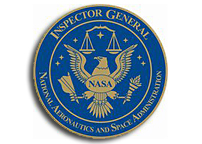 NASA Inspector General Paul K. Martin today released a report summarizing his office's investigation into allegations that members of a NASA-supervised advisory committee charged with advising government officials about the nation's Global Positioning System (GPS) violated Federal conflict of interest laws.
In January 2012, LightSquared Subsidiary LLC (LightSquared), a Virginia telecommunications company, asked NASA's Office of Inspector General (OIG) to determine if members of the Space-Based Position, Navigation and Timing Advisory Board (Advisory Board) who had ties to GPS manufacturers or related industries violated conflict of interest laws when they publicly opposed LightSquared's plan to develop a nationwide wireless broadband network.
The issues posed by LightSquared's plan came before the Advisory Board following a January 2011 decision by the Federal Communications Commission (FCC) to grant LightSquared conditional approval to augment its existing satellite telephone service with 40,000 land-based cell towers. That plan sparked immediate concern from GPS users and manufacturers – as well as members of the Advisory Board – because the bandwidth assigned to LightSquared by the FCC abuts the spectrum reserved for use by GPS devices. The GPS community feared that the radio signals from an expanded LightSquared network would interfere with and overwhelm the signals used by GPS devices.
At a June 2011 meeting, the Advisory Board voted to send a resolution opposing LightSquared's plans to the PNT Executive Committee (EXCOM), a Government panel composed of the deputy administrator of NASA and senior officials from eight other government agencies that considers GPS-related issues. In addition, in August 2011, Vice Chairman Bradford Parkinson, a Stanford professor who helped design the original GPS for the military in the 1970s, co-signed a letter to the FCC requesting that the Agency deny LightSquared's request on the grounds that it would disrupt the nation's GPS system.
In summary, after reviewing hundreds of documents and interviewing more than 20 witnesses, the OIG found that by co-signing the letter to the FCC Parkinson improperly participated in a particular matter that had a direct and predictable effect on his financial interest. Parkinson's conflict resulted from his status as a stockholder and board member of Trimble Navigation Limited (Trimble), a California manufacturer of precision-GPS devices that helped form a coalition of GPS makers and users to block the LightSquared plan.
However, we also determined that Parkinson's actions were not motivated by a financial interest but rather appeared to be driven by his desire to protect a critical national resource he had helped create. In particular we noted that Parkinson had disclosed his ties to Trimble on his annual financial disclosure statements and made no attempt to hide his board membership or stock ownership. We also found that LightSquared representatives attended the June 2011 Advisory Board meeting and were aware of Parkinson's potential conflict at that time, but failed to raise the issue.
We did not find that any other Board member took action that violated federal conflict of interest laws.
Finally, we recommended that NASA adopt additional procedures to help members of advisory committees identify potential conflicts of interest before they occur. Specifically, we found that although NASA attorneys reviewed the Advisory Board members' financial disclosure statements and issued warning letters to them about potential conflicts, the attorneys would have been in a better position to spot such conflicts if they also reviewed meeting agendas in advance and attended meetings whenever possible.
The full report can be found on the OIG's website at http://oig.nasa.gov/ under "Reading Room" or at the following link: http://oig.nasa.gov/Special-Review/SpecialReport(8-2-12).pdf
Please contact Renee Juhans at (202) 358-1712 if you have questions.
Renee N. Juhans
Executive Officer
NASA Office of Inspector General
(202) 358-1220