Remarks at the International Space Exploration Forum William J. Burns Deputy Secretary of State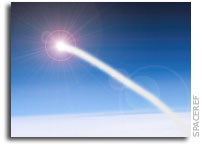 Washington, DC
January 9, 2014
Good morning. I am very pleased to welcome all of you to the State Department and the International Space Exploration Forum. We have with us today representatives from emerging and established space-faring nations from every corner of the globe – an unprecedented gathering at an unprecedented time for space exploration.
Last year, China became the third country to complete a successful landing on the moon, India launched its Mars Orbiter Mission, and the United States' own Voyager 1 became the first manmade object to leave our solar system and enter interstellar space. This past year we also celebrated 15 consecutive years in orbit for the International Space Station. And we made scientific discoveries and breakthroughs that transformed our understanding of outer space and our way of life here on earth.
That's why, despite the many pressures, challenges, and urgent priorities facing the United States at home and abroad, our commitment to space exploration is only growing stronger. We know that space exploration fuels economic growth. It spurs scientific and technological innovation. It inspires our young people. And at a relatively modest financial investment, it provides direct, real, and lasting benefits in nearly every aspect of modern-day life – from public health and safety to energy and information technology.
The achievements of last year and the triumphs of the past century are not the product of a single country or a single space agency. They are the product of shared endeavors and shared sacrifices.
Since its inception, NASA has signed more than 4,000 agreements with more than 120 countries and international organizations. The International Space Station – the most complex cooperative scientific and engineering project in history – has welcomed more than 80 countries to participate in its research. Rather than pursuing disparate paths of discovery, 12 national space agencies have developed a shared roadmap that will lead us to human missions to the surface of Mars. And to make the most of the technology revolution unleashed by communications, navigation, and earth observation satellites, states are coming together to create a compatible and interoperable Global Navigation System of Systems.
As the number of space faring nations increases, as states' monopoly on knowledge and technology erodes, and as commercial interest in space exploration grows, international cooperation will prove more important than ever. We all share a deep stake in extending humanity's reach further into the solar system, advancing innovation further and faster, and extending the benefits of discovery to more people in more places. The question facing us today is whether we can muster the courage and political will to advance space exploration and ensure that cooperation continues to trump competition.
If we do that – if we choose to put our collective strength behind cooperative efforts rather than competing efforts – the opportunities are as vast as the solar system itself. Let me highlight three particular areas where we can enhance our collaboration.
First, we should encourage more countries to participate in the activities of the International Space Station. The Station remains the leading space platform for global research and development. The Station is the foundation for future human exploration to an asteroid, the Moon, and ultimately Mars. And it is a lasting testament to how much more we can accomplish together than we can on our own.
Second, we should explore ways to encourage entrepreneurial ventures and support the kind of robust and competitive commercial space sector that is vital to the next era of space exploration. Already, two U.S. companies – Space X and Orbital Sciences – have become the first private sector entities to send missions to the International Space Station, allowing NASA to focus on cutting edge missions beyond low earth orbit.
Finally, we can do much more to defend the planet from near-earth objects and space debris. We continue to work through the United Nations Committee on the Peaceful Uses of Outer Space to deal with this challenge, and we are working with the European Union and other countries to develop an International Code of Conduct for Outer Space Activities. We also would welcome international support for NASA's Asteroid Redirect Mission, which, among other things, will help us learn how to better defend our planet from a catastrophic asteroid collision.
In the courtyard outside this room sits a remarkable statue. The "Man and the Expanding Universe" fountain was installed 50 years ago to celebrate space exploration. Its sculptor, Marshall Fredricks, said that the work represents "the immensity, order, and mystery of the universe." In the past five decades, our knowledge of this universe has advanced by leaps and bounds. But our task – as all of you know better than I do – is far from complete.
The statue's place here at the State Department reminds us that space exploration is not just the preoccupation of scientists and astronauts but a vital undertaking for all those who wish to advance the cause of global peace and prosperity.
Now is the time to come together to make space exploration a shared global priority, to unlock the mysteries of the universe, and to accelerate human progress here on earth. I am confident that we will advance further, faster, if we work collectively.
And so on behalf of Secretary Kerry, I want to once again to extend my warmest welcome to all of you and to wish you a very productive and successful Forum.
Thank you very much.
X