Ralph Hall Will Chair House Science and Technology Committee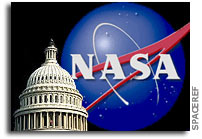 AIP FYI Number 124: December 15, 2010
The chairs of key committees in the House of Representatives with jurisdiction over science policy and budgets will change when the new Congress convenes on January 5, 2011. Among those changes are the leadership of the House Science and Technology Committee, and the House Appropriations Committee and its subcommittees.
The new Chairman of the House Appropriations Committee will be Hal Rogers (R-KY). Rogers has served on the Appropriations Committee for many years, including his previous chairmanship of the subcommittee having jurisdiction over the National Institute of Standards and Technology. New subcommittee chairs will be appointed in coming weeks, and reviewed in a future issue of FYI.
The House Science and Technology Committee will be chaired by Ralph Hall (R-TX). Hall has represented a northeast Texas district since 1980. Originally a Democrat, he changed parties in 2004. Hall will replace Bart Gordon (D-TN) who has been the committee's chairman since 2007, and who announced his retirement a year ago. Hall has served on the committee for more than half of the time since it was established in 1958, and became its Ranking Member in January 2007. Gordon and Hall enjoyed a friendly, bipartisan relationship as the senior leaders on the Science Committee, an approach that made it a model of comity and cooperation.
A committee's agenda often reflects the interests of its chair. In the foreword to a committee history issued in 2008, Hall discussed two of his key interests, manned space exploration and energy:
"I believe that manned spaceflight has contributed more to securing America's technological and economic leadership in the world than any other civilian government program. Through both great success and occasional tragedy, NASA has captured the hearts and imaginations of the American people and spawned decades of technological innovation, the benefits of which have far exceeded the cost of investment. If we want to remain economically competitive for future generations, it is imperative that we continue to support manned spaceflight.
"Another focus that is sure to remain at the top of the Committee's agenda is the need for cheap, clean, reliable and abundant energy. The U.S. relies too heavily on unstable regimes to provide the energy that runs our economy. The Science and Technology Committee has been at the forefront of efforts to diversify our energy portfolio by promoting renewable and alternative energy sources. This Committee is strategically positioned to help find real solutions to our energy problems, along with finding ways to use our abundant domestic fossil fuel resources more cleanly and efficiently."
The Science Committee has played an active role in issues surrounding climate change. At a climate change hearing last month, Hall stated:
"We must hold this Administration accountable for meeting a level of scientific integrity the public expects from their government. I think this hearing demonstrates that reasonable people have serious questions about our knowledge of the state of the science, what the evidence is, and what constitutes a proportional response. Sorting scientific fact from rhetoric is essential, and we have a long way to go on this topic."
A key agenda item for the committee during this Congress was the reauthorization of the America COMPETES legislation. The committee held 48 hearings on this legislation, which passed the House after a fairly lengthy process this summer. The markup of the bill and its consideration on the House floor was characterized by an atypical partisan divide between the committee members about the amount of research funding that should be authorized, and the length of the authorization period. During one of the days of House floor debate on various versions of the bill, Hall told his colleagues:
"New programs in the bill shift an emphasis away from basic research towards technology commercialization activities that could potentially divert money away from basic research and could lead to inappropriate market innovation. Keeping the [flat funding] language in the [first] bill would reduce authorization levels in the bill by $1.3 billion. The Republican motion to recommit kept all existing programs at fiscal year 2010 appropriated levels. Given that our Nation's debt is currently $13 trillion and our Nation's budget deficit has increased 50 percent in three years, it's prudent to put the brakes on significant increases in spending for years to come.
"This [new version of the] bill is better than the bill was when it was introduced. It's not as good as the bill was when it left the [Science] committee that first considered it. It's not as good a bill as it was when they accepted and voted 'yes'- Republicans and Democrats alike–on the motion to recommit. So we've made some improvements. I'm not discouraged. I still like the thrust of the bill, and I look forward to working with the chairman [Rep. Gordon] from this day forward."
The COMPETES bill was passed by the House and approved by a key Senate committee. It has not been considered on the Senate floor.
On December 8, the Republican Cconference selected Hall as the next chairman of the House Science Committee. In a release issued that day, Hall said:
"I am truly honored to be selected by my colleagues to chair the Committee on Science and Technology in the 112th Congress. Having served on this Committee since I was first elected to Congress in 1980, I have great respect and appreciation for the role of science and technology in keeping our Nation competitive and improving the lives of our citizens.
"Advancements in science and technology will create jobs, keep America at the forefront of innovation, and drive economic growth. Smart investments in basic research and development, coupled with proper business and tax incentives, will spur innovation and allow American businesses to commercialize and manufacture technologies here in the United States.
"Our Committee will help ensure that taxpayer dollars are invested wisely in research and development programs by providing effective oversight of existing programs and by eliminating wasteful and duplicative programs and streamlining programs where needed. Republicans have been given the opportunity to help make our government function more efficiently and effectively, and we will work to achieve fiscal responsibility.
"I look forward to working with new and returning members on the Committee to advance domestic energy solutions that move America toward greater energy security, help guide a space exploration program that will maintain America's leadership in the world, bolster technological innovation to strengthen national and economic security, and improve science, technology, engineering and math (STEM) education to promote competitiveness in the global marketplace.
"Inasmuch as this Committee has jurisdiction over NASA and the space program, I feel honored to help advance what the late Chairman Olin 'Tiger' Teague set in motion when he chaired this Committee. I was honored to attend some of the early launches of the Apollo program and have enjoyed working with American heroes such as Neil Armstrong, Buzz Aldrin, Gene Cernan, General Tom Stafford, John Glenn, Jim Lovell, and others. These were major Columbuses and Magellans of space, and we must honor their contributions and continue the journey.
"It is a privilege to be given this opportunity, and I look forward to shaping a comprehensive agenda for the 112th Congress."
Richard Jones
Government Relations Division
American Institute of Physics
rjones@aip.org
301-209-3095