NPOESS Lessons Evaluation Executive Summary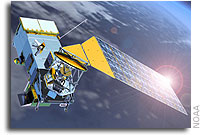 The Aerospace Corporation was chartered by Acting PEO for Environmental Satellites immediately following White House NPOESS Divergence decision announced 1 Feb 2010.
Findings
* Chronically unrealistic cost estimation tainted the budget process, dictated the acquisition
strategy, distorted management decisions, and set the program up for cost overruns
* Incomplete, inaccurate assertions of heritage contributed to cost estimation problems and led to
significantly optimistic assessments of technical and programmatic risk
* The Government and the prime contractor failed to establish clear, detailed supplier
performance expectations and appropriate incentives
* Multiple factors constrained and eventually eliminated the SPD's authority to make performance
trades
* From the start, the mission priorities of the key Convergence stakeholders were divergent. The
formulation of the NPP mission created a "nested", interagency partnership with conflicting risk
reduction and climate monitoring mission objectives. The lack of synergy in these partnerships
created significant tension in program cost, schedule and performance
* The acquisition strategy contained two major flaws, including assumption of the future use of
the capability trade space to maintain cost and schedule baselines, and an ill-conceived
interagency risk reduction mission that co-mingled the DoD and NASA acquisition paradigms
* Lack of a sufficient number of talented, sufficiently experienced staff appropriate to the
complexity and scope of the acquisition plagued the program and were a root cause of program
execution problems
* Outside events and pressures impinged on the NPOESS program as it co-evolved with its
context, complicating an already difficult program management environment with significant
consequences.
* Program management decisions were ill-informed and/or distorted by a combination of factors
that worked to divert attention from the core, priority mission requirements. These factors
included:
– politically pressured baseline cost constraints
– a flawed acquisition strategy
– cost estimation pathologies
– dysfunction in the governance structure
– weak staff support
– subjective and inaccurate assessments of ,and credit for, instrument heritage
– lack of agility in adapting to the changing program context
– weak/ineffective oversight of contractor efforts
– constraints on the capability trade space along with the authority to utilize it