National Research Council Report: Options to Ensure the Climate Record from the NPOESS and GOES-R Spacecraft: A Workshop Report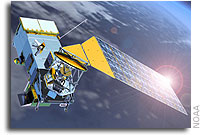 Summary
The nation's next-generation National Polar-orbiting Operational Environmental Satellite System (NPOESS) was created by Presidential Decision Directive/National Science and Technology Council (NSTC)-2 of May 5, 1994, whereby the military and civil meteorological programs were merged into a single program. Within NPOESS, NOAA is responsible for satellite operations, the Department of Defense (DOD) is responsible for major acquisitions, and NASA is responsible for the development and infusion of new technologies. In 2000, the NPOESS program anticipated purchasing six satellites for $6.5 billion, with a first launch in 2008. Costs have since escalated dramatically, and the expected date of first launch has slipped to 2013. By November 2005, it became apparent that NPOESS would overrun its cost estimates by at least 25 percent, triggering the so-called Nunn-McCurdy review by the Department of Defense.
As a result of the June 2006 Nunn-McCurdy certification of NPOESS, the planned acquisition of six spacecraft was reduced to four, the launch of the first spacecraft was delayed until 2013, and several sensors were canceled or descoped in capability as the program was re-focused on "core" requirements related to the acquisition of data to support numerical weather prediction. "Secondary" sensors that would provide crucial continuity to some long-term climate records, as well as other sensors that would have provided new measurement capabilities, are not funded in the new NPOESS program. Costs for NOAA's next generation of geostationary weather satellites, GOES-R, have also risen dramatically, and late last year NOAA canceled plans to incorporate a key instrument on the spacecraft–HES (Hyperspectral Environmental Suite).
As described in the Preface to this report, the National Research Council held a workshop, "Options to Ensure the Climate Record from the NPOESS and GOES-R Spacecraft," in Washington, D.C., on June 19-21, 2007, to review options to recover measurement capabilities, especially those related to climate research, that were lost as a result of the Nunn-McCurdy actions and the cancellation of the HES sensor on GOES-R. Some 100 scientists and engineers from academia, government, and industry attended the workshop, which gave participants a chance to review and comment on a mitigation plan developed by NASA-NOAA as well as to explore options that were not included in the NASA-NOAA study. This report is meant to summarize these discussions; by design, it does not present the organizing panel's findings or recommendations. A follow-on study that will develop consensus findings and recommendations is underway; a report from this study is scheduled for release on January 31, 2008.