NASA's Space Shuttle Discovery to Move to Launch Pad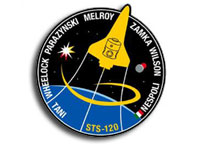 CAPE CANAVERAL, Fla. — Space shuttle Discovery is targeted to roll out to Launch Pad 39A at NASA's Kennedy Space Center, Fla., on Saturday, Sept. 29, as preparations for the STS-120 mission move forward. Discovery is targeted to lift off Oct. 23 on a 14-day mission to the International Space Station.
The first motion of the shuttle out of Kennedy's Vehicle Assembly Building is expected at 8 p.m. EDT. The 3.4-mile journey to the launch pad is expected to take about six hours.
NASA Television will provide a live picture of Discovery at the pad beginning at 7 a.m. Sunday. Video highlights of the rollout will air on NASA TV's Video File segments.
Media are invited to a photo opportunity of Discovery at the pad and interview availability with Discovery Flow Director Stephanie Stilson at 6:30 a.m. Sunday. Since dates and times of this event are subject to change, updates are available by calling 321-867-2525.
Media must arrive at Kennedy's News Center by 6 a.m. Sunday for transportation to the viewing area. Foreign news media accreditation for this event now is closed. Foreign media who already have been credentialed must arrive at the Pass and ID Building on State Road 3 by 5:30 a.m. for transportation to the News Center. U.S. media without permanent Kennedy Space Center credentials should apply online by 4:30 p.m. Thursday, Sept. 27 on the center's accreditation Web site at:
Badges must be picked up by 4 p.m. Friday.
The STS-120 mission will add a module to the space station that will serve as a port for installing additional international laboratories. The Harmony module will be the first expansion of the living and working space on the orbiting laboratory since 2001. The mission also will move the first set of solar arrays installed on the station to a permanent location on the complex and redeploy them.
For NASA TV downlink information, schedules and links to streaming video, visit:
For information about the STS-120 mission and crew, visit: