NASA STS-132 Report #25 9 a.m. CDT Wednesday, May 26, 2010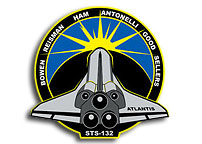 Mission Control Center, Houston, Texas
HOUSTON — Atlantis made its last planned landing Wednesday morning at Kennedy Space Center in Florida, completing a flight that delivered a new Russian module, batteries and other equipment and supplies to the International Space Station.
Atlantis' wheels touched down on KSC's three-mile concrete runway at 7:48 a.m. CDT., winding up a flight of 11 days, 18 hours and 28 minutes. Atlantis traveled almost 4.9 million miles during 186 orbits. Atlantis has flown 32 missions and travelled a total of more than 120 million miles.
"We're glad to have you back," Capcom Charlie Hobaugh told the crew just after wheel stop. "You guys executed flawlessly and you had a great time doing it."
Commander Ken Ham, Pilot Tony Antonelli and Mission Specialists Garrett Reisman, Michael Good, Steve Bowen and Piers Sellers spent just over seven days at the station. During that time Reisman, Bowen and Good each did two of the flight's three spacewalks.
The first included installation of a spare space-to-ground antenna and a spare parts platform on Dextre, the robot-like Special Purpose Dexterous Manipulator. The second and third were dedicated mostly to installation of the six 375-pound batteries on the station's P6 truss. The old batteries returned to Earth in Atlantis' cargo bay, in the same carrier that took their replacements into space.
The 19.7-foot Russian Rassvet (Dawn) Mini-Research Module-1 was installed on the Earth-facing port of the station's Zarya module. For the delicate and complex operation, Reisman and Sellers used the station's 58-foot Canadarm2 and a Russian-language computer.
Atlantis also took equipment, supplies and experiments to and from the station, and augmented its supplies of water, oxygen and nitrogen.
The crew is scheduled to return to Houston for a welcome at Ellington Field's Hangar 276 about 4 p.m. Thursday. The public is invited.