NASA STS-132 Report #24 Tuesday, May 25, 2010 – 11:30 p.m. CDT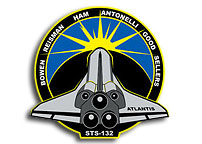 Mission Control Center, Houston, Texas
HOUSTON – All eyes turn to the Kennedy Space Center in Florida, as the Atlantis crew and mission control team prepare for a possible landing Wednesday morning.
The crew awoke at 11:20 p.m. CDT Tuesday to "Supermassive Black Hole" performed by Muse. The song was played for Commander Ken Ham.
Ham, Pilot Tony Antonelli and Mission Specialists Mike Good, Garrett Reisman, Steve Bowen and Piers Sellers will start the day with final stowage activities and deorbit preparations.
There are two landing opportunities under consideration for Wednesday, both at Kennedy. The first is on orbit 186 with a deorbit burn at 6:41 a.m. and touchdown at 7:48 p.m. The second is on the following orbit, with deorbit burn at 8:17 a.m. and touchdown at 9:22 a.m.
Landing weather was forecast as favorable but with a slight chance of showers within 30 miles of the shuttle landing facility.
If needed, there are two additional landing opportunities for Florida on Thursday, and landing opportunities at all three landing sites, including Dryden Space Flight Center in California and White Sands Test Facility in New Mexico, Friday and Saturday.
The next status report will be issued after landing or earlier if events warrant.