NASA STS-132 Report #22 Monday, May 24, 2010 – 11:30 p.m. CDT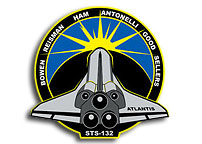 Mission Control Center, Houston, Texas
HOUSTON -The space shuttle crew prepares for its return to Earth today. Landing opportunities for Atlantis' planned final mission start on Wednesday.
The crew was awakened at 11:20 p.m. CDT. "Empire State of Mind" performed by Jay Z and Alicia Keys was the wake up song. It was played for Mission Specialist Garrett Reisman.
Commander Ken Ham, Pilot Tony Antonelli and Mission Specialist Mike Good will perform a test of the flight control system and a "hot fire" of the reaction control system in preparation for landing opportunities.
Reisman and Mission Specialists Steve Bowen and Piers Sellers will work on final packing and stowage activities in the morning and be joined by their crewmates to continue that work throughout the day. Each of the crew members also has exercise planned and they will all participate in a briefing to review the deorbit plans.
The entire Atlantis crew will gather in the shuttle flight deck to talk with representatives from The Colbert Report, ABC Radio Network and WEWS-TV, of Cleveland. That event will air on NASA TV at 7:10 a.m.
Crew sleep is scheduled for 3:20 p.m.
The next status report will be issued after the end of the crew workday or earlier if events warrant.